Custom Engineered Two-Room Chemical Metering Building Case Study
THE PROJECT
The Blue River Main Treatment Facility in Johnson County, KS, is one of Kansas City's largest wastewater treatment plant. Originally built in the 1960's and later renovated in 1987, it utilizes an aging and unreliable infrastructure that is currently in the process of being upgraded. The recent improvements to their solids management processes will meet anticipated solids capacity and regulatory requirements through 2035.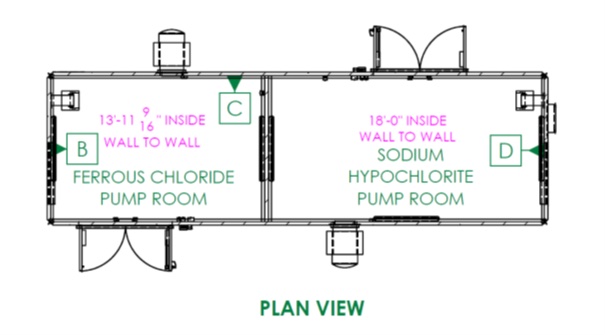 FEATURES & UPGRADES
One part of the upgrade includes replacing the ferrous chloride and sodium hypochlorite chemical feed systems and adding a Shelter Works chemical storage building to house the metering systems for those chemicals. Kevin Guy, Director, Business Development at Haynes Equipment in Olathe, KS, explained that ferrous chloride is one of the main chemicals used for phosphorous removal. Sodium hypochlorite, commonly known as bleach, is an effective disinfectant / antimicrobial agent also used for odor control.
The 10' x 32'-8" x 8' chemical metering building has a partition wall separating the shelter into two sections. The first measuring 18' in length, with the second at just under 14'. The smaller section is for the ferrous chloride pump room that houses two peristaltic pumps. The larger one is for the sodium hypochlorite room which houses two peristaltic pumps and one diaphragm pump.
Each room has its own entrance, lighting, and HVAC systems, keeping the processes separate. Additional customizations include interior wood reinforcement for mounting equipment and exterior wood reinforcement for mounting the centrifugal exhaust fans on the long walls of the shelter.
THE RESULT
According to Guy, "A well-engineered chemical feed system is key to an effective water treatment program. A properly designed chemical feed and control system ensures safety, operating and cost management goals are achieved. Having the right enclosure is an important aspect of an effective chemical feed system." When asked about working with Shelter Works to provide this custom engineered shelter, he commented that "The close collaboration between Haynes Equipment Company, Inc. and Shelter Works was essential to the achievement of the criteria set forth by the engineer and end-user."