Door OptionsNumerous Sizes & Styles with the Hardware You Need
"We believe that the quality of our doors, from their base construction to their durable finish, is important and expresses the caliber or our entire building."
Doors are the number one stress point of any shelter. It is the part of the building that experiences the most wear and tear, so it's important that it is as strong as we can make it. Every aspect of our doors has been specifically engineered for ease of operation with consideration for maximum protection, safety, and security.
Seamless Integrated Door Jambs
A Wide Variety of Sizes & Styles
Proprietary FiberWrap™ Construction
High Quality Door Closers
Several Door Hardware Options Available
Awnings to Protect Your Doorway
Door Information
At Shelter Works, we strive to provide shelters custom-engineered to your specifications. So, while we have standard door options, we can also integrate custom doors like oversized, sliders, rolling doors and access panels.
We can place these doors anywhere on any wall and outfit them with windows or vents to satisfy all of your needs.
Watch this video to learn more.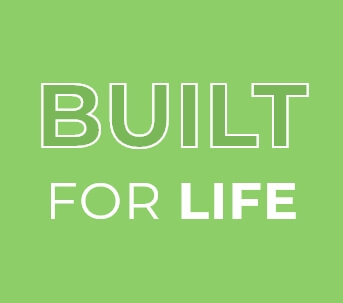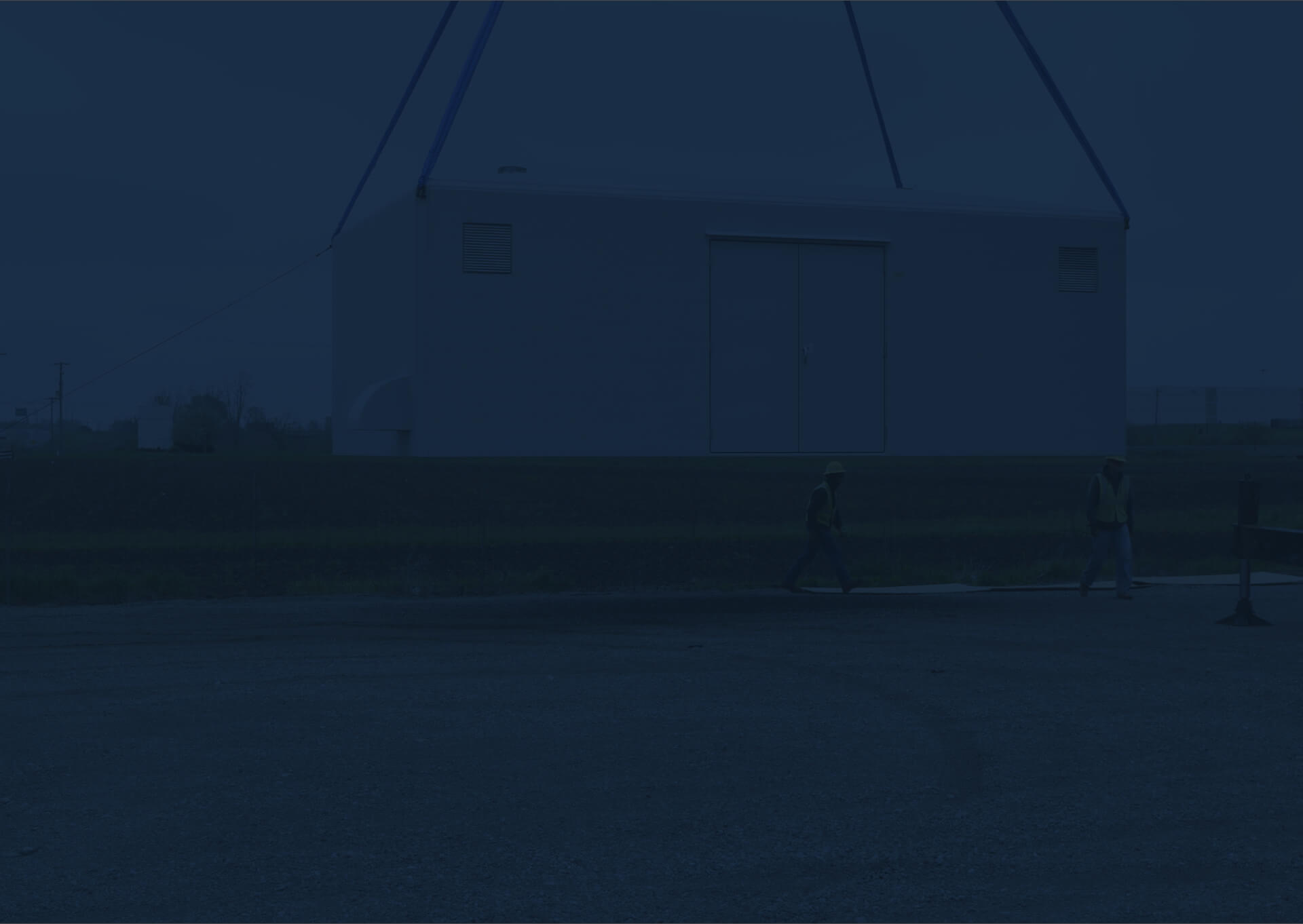 Door Sizes & Styles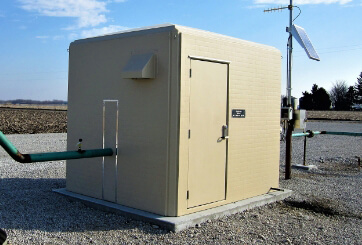 Single Door3' Wide x 6'8" Tall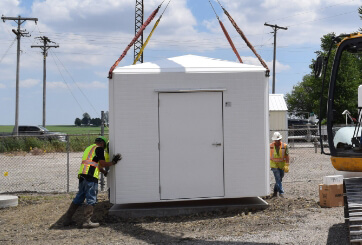 Single Door4' Wide x 6'8" Tall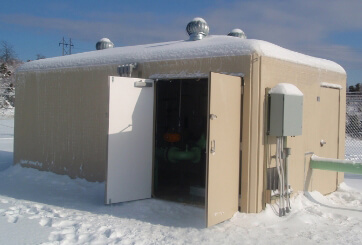 Double Doors6' or 8' Wide x 6'8" Tall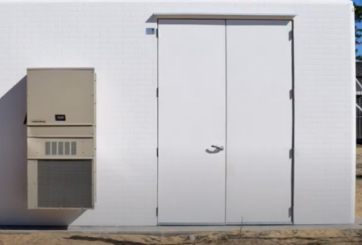 Oversized Doors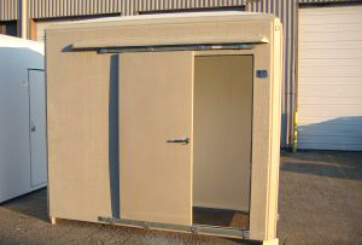 Sliding Door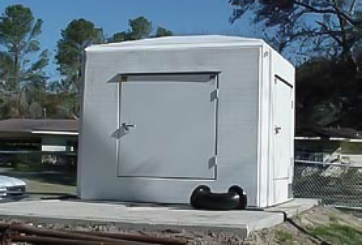 Access Door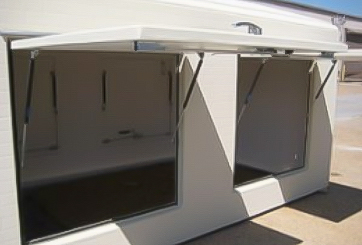 Top Hinge Access Door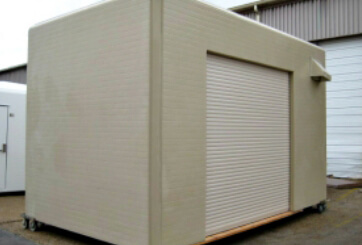 Manual Roll-Up DoorLight Duty, Un-Insulated, Security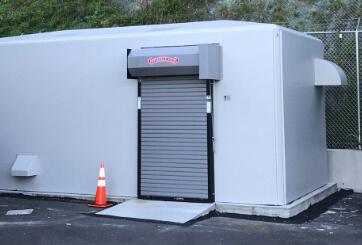 Electric Roll-Up DoorHeavy Duty, Insulated, Security
The FiberWrap™ Technology Advantage
Our doors are made with our unique FiberWrap™ Technology (check out the video on this page) and are designed to withstand the pressures and forces found in tornadoes and hurricanes. In order to pass the ASTM E330/E330M-14 test, the door had to be able to sustain forces up to 150% of those you might experience in such a natural disaster. Shelter Works FiberWrap™ doors passed with flying colors.
Shelter Works' seamless doors made with FiberWrap™ Technology are designed and built using our proprietary process to maximize long-term performance. We form our doors in a two-part mold under pressure and our fiberglass actually wraps seamlessly around the core, creating an incredibly tough and durable door that will withstand decades of use and exposure without failure.
Seamless, Integrated Door Jamb Construction
Our seamless, integrated door jambs are formed into the wall during the molding process, so they're not separate pieces that are later cut in, or adhered some way, or screwed together as other manufacturers sometimes do. These very wide jambs are about 5 inches deep and prevent wind-blown debris, dust, rain from penetrating into the building. They can be placed anywhere on the wall– to the left, to the right, up or down.
Door Hardware & Accessories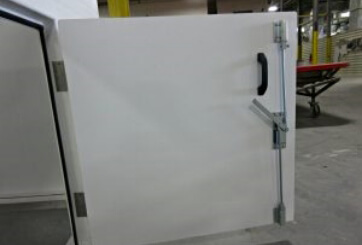 2-Point HardwareLocks at Top & Bottom of Door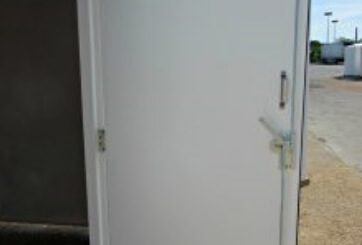 3-Point HardwareLocks at Top, Middle & Bottom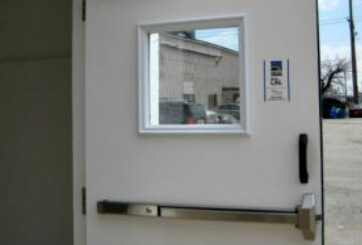 Panic HardwarePush Bar to Exit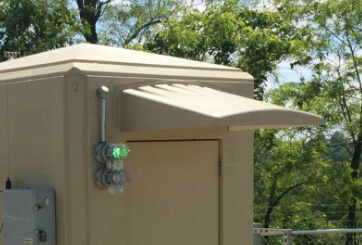 Door AwningsOptional Door Awnings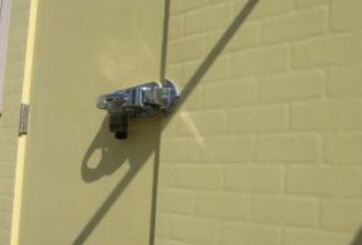 Freezer Style Lock Sets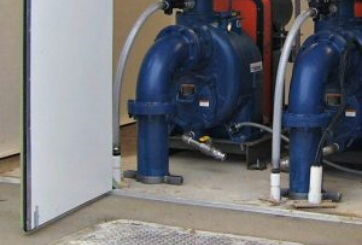 Low-Profile Entry
High Quality Door Closers
The door is the #1 stress point for every shelter because the door is the one thing on a building that you interact with, so our doors need to be solid, operate smoothly and provide a sense of security. Three heavy duty stainless steel ball-bearing hinges and an industrial hydraulic door closer ensure that the doors will operate smoothly, even in severe weather. Both our standard 3-point and optional panic hardware have their latching mechanisms surface mounted on the inside surface of the door so that the latches cannot be tampered with from the outside, making them very secure.