Custom Two-Room Chemical Feed Building with Containment BasinCase Study
The Project
AmeriChem Systems, Inc., located in Aurora, IL, specializes in custom designing and fabricating corrosion-resistant chemical feed systems and other process equipment. They recently used a Shelter Works fiberglass shelter as part of a custom equipment enclosure for sodium bisulfite storage and injection at a nuclear power plant.
Michael Perry, National Sales Manager for AmeriChem Systems, explained that sodium bisulfite is a commonly used reducing agent of chlorine. It is used to dechlorinate a service water line that feeds to the process water system inside the plant. The water is first treated with sodium hypochlorite upstream, after an appropriate amount of time for disinfection, the sodium bisulfite injection occurs to neutralize any free chlorine that remains after the sodium hypochlorite treatment.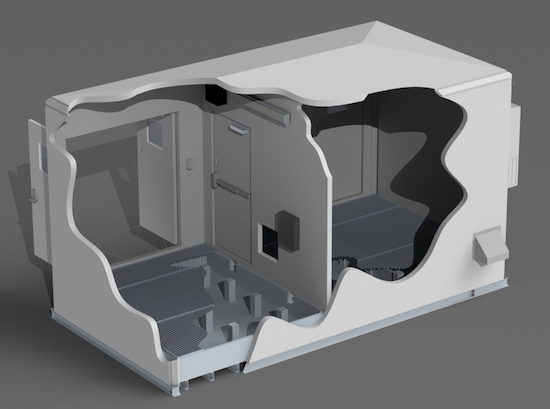 Custom Features
As with all AmeriChem projects, this shelter is full of customizations. Most notable is the partition wall dividing the building into two rooms. The first room houses two tanks that hold a total of approximately 1200 gallons of sodium bisulfite. The second room contains the electrical controls, transformer, and chemical pumping system. The wall protects the metallic enclosures in the systems room from corrosive vapors released during filling operations when hoses are connected and disconnected.
Vapors also need to be reduced for operator safety. Fresh air enters the shelter through an intake vent in the systems room. It then passes through a vent in the partition wall and exits the building through an exhaust fan in the storage room.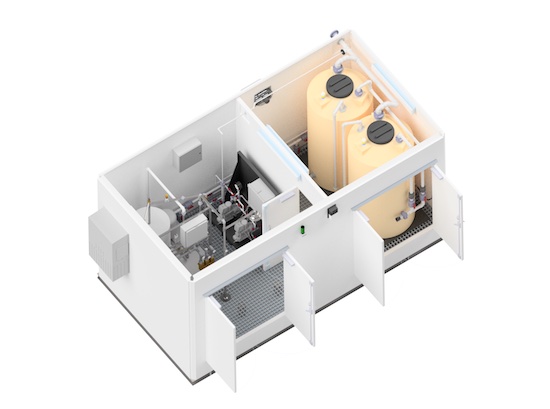 This shelter also has a 12-1/2" deep containment basement under an FRP grated walking surface. There are two 6" x 6" holes in the dividing wall that extend down from the right below the walking surface. They act as a weir wall to assist flow management in worst-case scenario situations. The basin area under the storage room can hold approximately 600 gallons of fluid. The floor under the systems room will hold an additional 650+ gallons of fluid, should it be needed.
Additional customizations include 2-1/2" foam and wood reinforcement in all walls, the roof, and doors. It has two sets of double doors with windows on each door for easy visibility from outside the shelter as well as a single door for easy access to either room when inside the shelter. It's equipped with weatherproof electrical, HVAC, and LED lighting packages. Finally, the shelter is mounted on a steel base skid for easy placement at the facility.
Why Shelter Works
AmeriChem has purchased several Shelter Works fiberglass enclosures over the past few years. When asked what it is about Shelter Works that makes them a repeat customer, Perry stated, "The high overall quality of construction and consistency from project to project. They use professional-grade hardware and components. You know exactly what you're getting before you see the final product. The walls are straight and plumb, the door hinges and alignment are always perfect, and the caulking, weather seals, and gaskets are just "done right"."