Chemical Shelter for New Municipal WellCase Study
The City of Lakewood, California is located in Los Angeles County. Its population of 80,000 depends entirely on groundwater wells, located in the Central Groundwater Basin, to meet all its water demands. The city recently added a well to compensate for the waning production of some of its current wells.
Shelter Works provided the fiberglass chemical shelter that protects the chlorine disinfection storage and metering pumps for the new well. Chlorine is used to ensure that water is potable and safe from microbial contamination. The end-user decided to use a fiberglass chemical shelter because of its ability to withstand exposure to the substances used in chlorine disinfection which can be corrosive to metal and other building materials.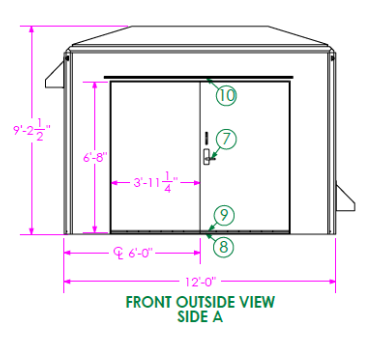 The Shelter
The 6' x 12' x 8' fiberglass building has two walls that contain wood reinforcement for infield mounting of the chlorine skid, orthophosphate skid, and eyewash station. The end-user opted for the larger 8-foot double door entry with a low profile threshold for ease of moving equipment and chemicals in and out of the shelter. The building also includes a ventilation system consisting of a fan, vent, and thermostat to ensure that the inside temperature of the shelter never exceeds the outside temperature.
Mark Beeler from Charles P. Crowley Co. represented Shelter Works on this project. Beeler worked with Gary Roepke, Senior Principal Engineer at Cannon's Public Infrastructure department to ensure the City of Lakewood received a chemical shelter that meets their requirements. Roepke said he would recommend Shelter Works because "... the staff at Shelter Works was helpful … and the installation was easy and concern free".