Field Equipment SheltersShelter Works News
Building Fiberglass Expertise While Assembling Good-Looking Prefabricated Field Equipment Shelters
"I watched and learned from others, and then I just developed my own style." That's how Darrin Smith describes mastering the spray gun and learning to be an interior gel coat technician when he first came to the company. Later he advanced to working in Assembly for Shelter Works, where he acts as a backup to the Team Leader – Assembly. The company tends to hire those who are diligent and take a craftsman's pride in their work, and Darrin, who celebrated his 5-year anniversary with Shelter Works this month, exemplifies that pride.
Darrin Smith came to Shelter Works with 10 years of concrete construction experience and 10 years construction experience working for a siding company…so he was good with his hands, but he didn't have specific fiberglass experience. "I have always enjoyed working with my hands, but it was a happy accident that I ended up here," he said. When asked why he stays with Shelter Works, he didn't hesitate for a moment. Beyond a doubt, it's a great company to work for –with great benefits and chances for advancement. I really enjoy the people I work with; they really care about the quality and workmanship that is put into making a really good-looking building./p>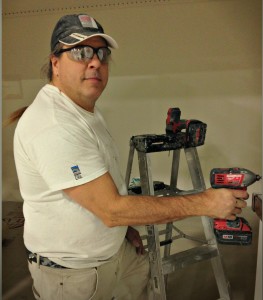 Darrin and his fiancé Clementine are raising two teenage boys, Ben (a sophomore in college) and Charlie (a junior in high school). John Miller, Director of Sales and Operations, had this to say about Darrin, "Darrin has been a key member of our team as we have built, in my opinion, the best production team in the industry. Not only does he take pride in his work, but like the rest of our team, he has grown in his skills and experience and willingly pitches in anywhere needed. Darrin's contribution over the past 5 years is one of the reasons we are able to offer an industry leading 25-year warranty. I have enjoyed working with Darrin and look forward to many more years of grow and success.
Congratulations, Darrin!