Design For Our Customers NeedsShelter Works News
True Value in Every Shelter Built
"I Want Every Equipment Shelter to be as Perfect as Possible.'"

Eric Wood
When you buy a Shelter Works building, you're not buying some "cookie-cutter" structure made by a machine. You're buying an engineered-to-order composite equipment shelter, designed specifically for your application and individually constructed by a team of highly trained craftsmen who take great pride in their work. The purpose of this section is to highlight those artisans who make sure every building is just right.
Eric Wood graduated with a degree in electrical engineering, but perhaps he was destined by his name to work in carpentry. Eric, or "Woody" as he is called by his coworkers, loves the work he does. He's the one in charge of the interior structural elements of the walls, roofs, doorways and doors in production. "I pretty much run the wood shop around here and make sure we've got all the right materials inside the walls of every building."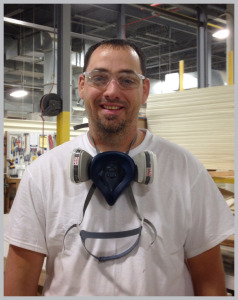 All Shelter Works fiberglass buildings are made using our proprietary FiberBeam™ construction process that is mostly a combination of fiberglass and foam, but many buildings also require wood to be constructed into the walls–to support equipment hung on the walls or reinforce the structure to withstand hurricane force winds or particularly heavy snow loads. When that happens, Woody studies the submittal package drawings and determines the exact wood configurations inside the walls in order to meet each client's needs. Oftentimes, that requires great creativity. "I like creating things. Some projects are really complicated, but I love the challenge of figuring it out for them." Woody explains.
He enjoys working with his hands and is well-suited for the task. Woody is a journeyman carpenter, the highest designation for woodworking construction mastery in a series of eight levels of knowledge and skill that a carpenter can strive for. He has been with Shelter Works for more than five years and spent six years in the Carpenters Union working as a framer for a construction company before that.
Woody brings a tremendous level of talent to his work and embodies the work ethos that is nurtured in all Shelter Works plant workers. "Everything I do gets covered with fiberglass so no one sees my work…But I know… So it's important that it be just right. I'm a bit of a neat freak and I want every job to be as perfect as possible.
If you'd like to visit our manufacturing facility, we'd love to show you around. Everyone takes great pride in what we create, so come and see our amazing team in action.