Promotion In Shelters Works TeamShelter Works News
Melany Pearia Promoted to Manager of Projects
Melany Pearia "has played a role in the success of Shelter Works for many years." So states an email from General Manager, Dave Masterson, when he announced Melany's promotion to Manager of Projects on September 28th. From CAD Draftsman to Lead CAD Designer to Manager of Projects, Melany has been involved in the development of virtually every single building Shelter Works has sent out over the past 11 years. If you've ever received one of our detailed submittal packages for your custom engineered shelter, chances are, it came from Melany.
Before coming to Shelter Works, Melany was a principal at Pearia Engineering, a 3-D design and engineering shop that developed 3-D models for clients and helped inventors by designing and creating prototype parts for their early stages of product and patent development.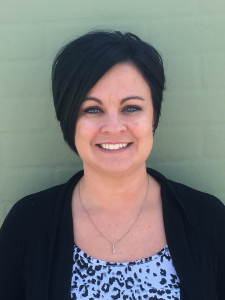 At Shelter Works, Melany started as a part-time subcontractor but eventually went full-time as Lead CAD Designer. In her new role as Manager of Projects, Melany will be in charge of the timely completion of job submittal drawings and maintaining Shelter Works' 2D and 3D drawing library. She will oversee the Project Managers and Draftspersons, as well as create and maintain the company's production schedule. In her new capacity, Melany will communicate production lead times with both operations and sales departments and lead production meetings with appropriate personnel.
Tracy Switzer had this to say about the new appointment: "We're excited about this new role for Melany. She's been a strong contributor to the growth of the company, and this is just the next step both for her personally and for the company. Her promotion is part of our overall strategy to grow the business intelligently and make sure we meet the growing demand we are experiencing. He added, "Melany will be reviewing and updating our standard operating procedures so that our production teams will be able to serve our customers even better than we have in the past, and we couldn't be happier that she's going to lead these efforts."
We asked Melany about her experience with Shelter Works over the past 11 years. When asked what she liked best about Shelter Works, she enthusiastically explained, "I love working at Shelter Works. It's a great product… But honestly, the best part about it is the people. Everyone is part of our family team, and the people who work here are personally invested in everyone's success. They care about our clients and making sure everything is done just right." When asked about her new responsibilities, she says, "I'm really looking forward to taking on the process improvement and inspiring the team to grow personally and professionally while growing the company as well."
When Melany isn't at Shelter Works, you might find her RV camping in a state park with her husband Chad and their three kids, Shalin, Olivia and Allison.
Congratulations, Melany!