Meet Jake EngertShelter Works News
Celebrating 5 Years At Shelter Works
To make the finest fiberglass building parts, "It's got to be the best every time."
That's the standard that lamination team lead Jake Engert sets for his team of rollers who work making fiberglass building parts in Shelter Works main manufacturing facility. We interviewed Jake just as he was celebrating his five year anniversary working as a chopper and lead roller for Shelter Works, and we asked him what he likes most about his job. "The people," he said without hesitation. Everyone knows what their job is, and everyone cares about the kind of work they are doing at Shelter Works. The friendly, helpful and quality-oriented culture permeates Shelter Works and supports a positive atmosphere in which to create the precise, high-quality fiberglass building parts that need to be made to manufacture Shelter Works' custom-engineered buildings.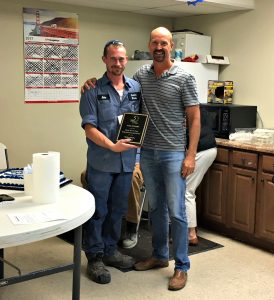 It is the lead roller's job to monitor quality to an exact measurement and ensure that the fiberglass and resin have bonded properly for strong, consistent fiberglass building parts throughout the walls and roof of all Shelter Works buildings. "Any small mistake in our work could create bigger issues down the line, so every single one has to come out the best." Jake makes certain that the team is doing their part to ensure precision on all fiberglass building parts in order to support an end product that lasts a very long time.
Before coming to Shelter Works, Jake served four years as a combat engineer in the United States Marines and then three years working for a tree service company. He was trained about the proper way to roll out high-quality fiberglass building parts and now enjoys training others on how to provide consistency in every Shelter Works building that we make.
Jake lives in St. Louis with his wife, Heather, and their three kids, Caleb (age 5), Peyton (age 3), and Brody (age 1). Congratulations Jake on five years of high-quality work with Shelter Works!