Shelter Works AnniversaryShelter Works News
20 Years of Shelter Works
Innovative engineered-to-order building manufacturer has designed and delivered over 4000 composite field equipment protection solutions since 1995
We're celebrating our 20th anniversary, and we want to thank you for being a part of 20 amazing years!
Since its founding in April 1995, Shelter Works has continuously innovated and delivered one-of-a-kind equipment enclosures for customers across a range of industries, including water and waste water, oil and gas, telecommunications, energy and transportation industries.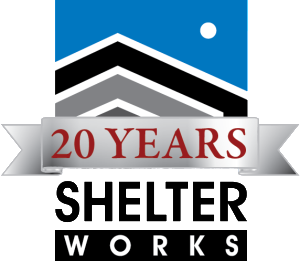 "Over the last twenty years, Shelter Works has grown by refining its processes and continually adding value through innovation, designing and redesigning our products to be stronger, more durable, more accommodating and more flexible to meet every conceivable customer need," said Tracy Switzer, President and founder of Shelter Works. "I attribute our success to three things: our people, our customer-oriented mindset and our proprietary processes. Over the years, we have assembled a highly specialized team of experts who know how to make our products to the exact specifications of our clients in the most effective manner possible. This leads to the highest-quality output—a great-looking building that functions beautifully over the long-term—which is attractive to customers in many different industries. We continually look for ways to innovate in every single area of the business, whether to improve our manufacturing processes, our customer communications or to improve our product offerings. This serves both our customers and our company very well, creating a company where it is fun to work and easy to do business with."
Shelter Works has grown into a multi-million dollar business by innovating around customer needs and effective manufacturing processes. The company's track record of results and success is due to its investment in people, processes, and communications.