Telecommunications SheltersShelter Works News
Showcasing Telecommunications Shelters at IWCE
Last week, we showcased our telecommunications shelters at the International Wireless Communications Expo (IWCE) in Las Vegas, meeting with telecom professionals who need fully-integrated telecom shelters or other field equipment buildings to protect a wide variety of telecom equipment. IWCE is a well-attended trade show. Both our booth and the entire show were packed with visitors who wanted to learn about our custom shelter offerings, and the questions that we heard really reflect the trends that we've seen in the industry recently.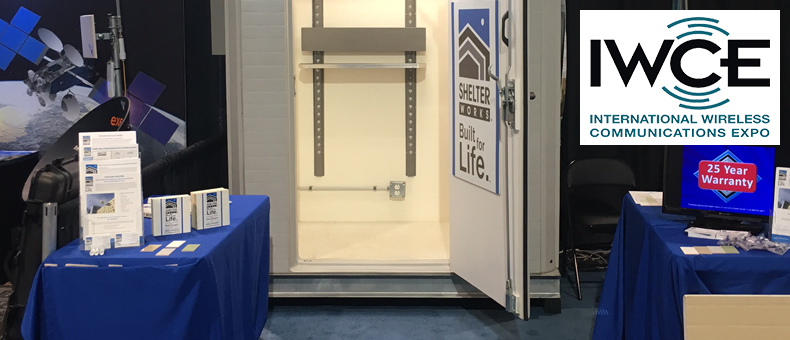 Are Your Telecom Shelters Getting Crowded?
One of the questions that many people asked had to do with what size telecommunications shelters we could build. Anyone who has worked with us knows that we can make our telecom shelters any size, and we were happy to explain all about our custom shelter offerings to those interested. As the telecommunications industry has matured, many find that the available physical facilities are getting more and more crowded, with providers having to compete with or cohabitate on towers with cable, emergency service, and other utilities. Shelter Works has a great solution for such issues! Related questions often included concern for larger integration packages such as: "Well, I need space for two racks, not just one. How big can you make these telecom shelters?" As equipment needs expand, many inquired about the possibilities to swap out smaller telecommunication shelters for larger telecom shelters to accommodate those necessary equipment expansions and, of course, our custom shelter offerings are perfect for that.
Another major area that many people asked about was how installation of these fully assembled telecommunication shelters can be done, particularly in remote sites (if you have the same question, you can read about installation here). We explained how transportation costs are lower (because our telecom shelters are so light weight) and how a building can be operational within hours (because the telecommunication shelters come 100% fully assembled with all the integration work done at the factory).
We find that we really enjoy supplying telecommunication shelters to this industry, and others are finding that our custom shelter offerings are perfect for many telecommunications applications. That's why we'll be at IWCE 2018 in Orlando next year. If you will be there as well, stop by our booth! We would love to talk with you!