Team CelebrationShelter Works News
Employee Celebrates 15-Years Making Shelters!
Izet Brkic has been a mainstay on the manufacturing team for Shelter Works since 2001. He now works as a Team Leader – Assembly making our client's FRP shelters, but over the years, he has worked in every area and has a working knowledge of every aspect of the Shelter Works production process.
Izet came from Bosnia in the late 1990's to escape war and make a better life for himself in America. He worked for three years as a machine operator in a plastics company, cutting acrylic and Plexiglas, but 15 year ago, he discovered the opportunity to help Shelter Works build custom shelters and has never looked back. Now he trains new staff on everything from how to use the fiberglass spray guns to how to assemble the buildings. Because we use a proprietary method of construction to make our trademarked FiberBeam™ wall construction, everyone has to go through training when they start. Izet is a part of the team that ensures proper fiberglass wall thickness, accurate measuring and laying in of the core foam, wood and other inner wall materials, as well as very exact assembly of the final equipment shelter.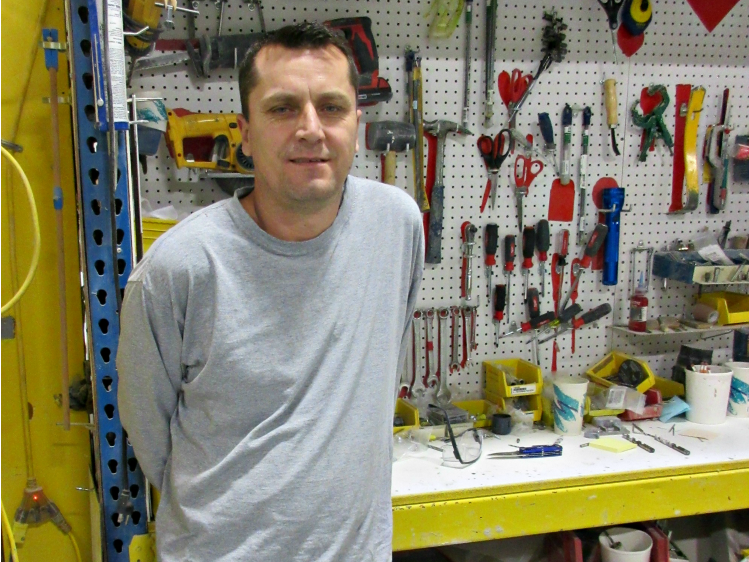 He makes sure that every building is constructed to the highest quality standard. John Miller, Director of Sales and Operations for Shelter Works said, "Izet has an unwavering commitment to constructing to the highest quality that helps set the tone for our whole fiberglass shelter production team; he does not tolerate mistakes. Our clients may not know him personally, but they get to see the great results of his work in the quality of their buildings. His high level of skill and pride of workmanship is exemplary, and we're glad to have him as a strong foundational member of the team."
Izet lives in St. Louis with his wife Masada and his two kids Anra (16) and Sandi (10).