Protecting Water Sampler for Industrial Meat PlantCase Study
The Project
Swift Prepared Foods recently opened Principe Foods, a 325,000 sq. ft. facility located in Columbia, MO. The plant produces and packages high-quality Italian meats and charcuterie for retail sale.
Meat processing requires a lot of water that produces residuals containing contaminants like FOG (fat, oil, and grease), blood, and bacteria that require removal before discharging into the municipal water system. The facility treats its wastewater to ensure that the effluent from the meat processing plant meets local and state water quality requirements.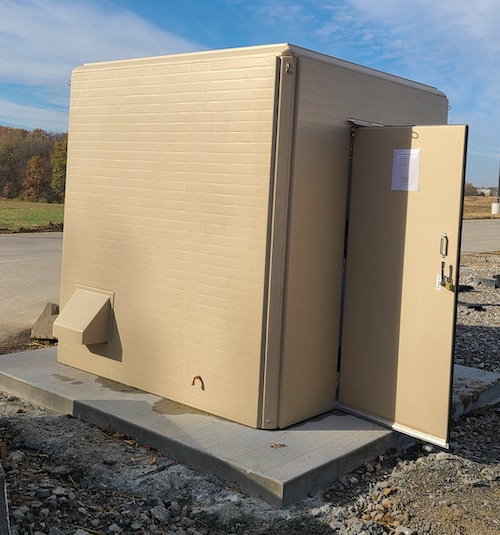 Designing A Better Water Sampler Building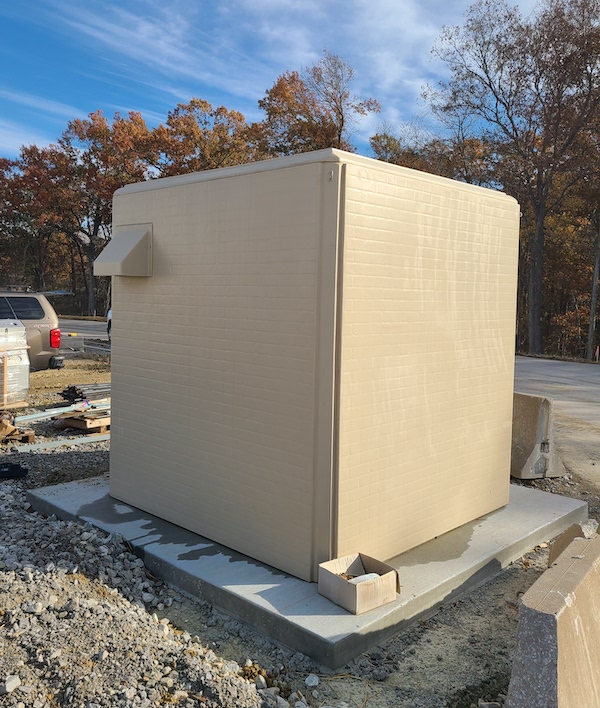 The system includes an automated sampler that monitors the effluent at the point of release. Shelter Works worked with Emery Sapp & Sons to provide a fiberglass building to house and protect their sampling equipment. This enclosure is the second Shelter Works fiberglass building purchased by Swift Foods for sampling wells. According to Matt Oesch, Project Manager at Emery Sapp & Sons, the end user made some adjustments to the plans for the building based on what they learned from daily use within the first shelter they purchased.
MORE ROOM – The original shelter was 6 x 6, and this time the end user opted for a larger, 8 x 8 footprint to make room for adding a field-installed sink and hot water heater to aid with maintenance and cleanup.
INTERIOR LIGHTING – Adding fluorescent light allows for easier reading of the equipment and improved general visibility.
The shelter also arrived on-site equipped with a load center, 12 in. exhaust fan with a corresponding vent, and a thermostat.
Working With Shelter Works
This is the first project Shelter Works has directly worked on with Emery Sapp & Sons. When asked about his thoughts on the final product, Oesch stated, "The structure was constructed for easy installation and required very minor prep work from delivery to installation. Quality was good, and given market conditions at the time of order, turn around on this building was very reasonable."