Three Room Shelter SolutionCase Study
THREE IN ONE PROTECTION FOR DRYDON'S CHEMICAL FEED SYSTEM
"The neat thing about this cost-effective chemical feed system solution is that it was able to be designed all in one piece." That's what George Argiris, Sales Representative for Drydon Equipment, explained about a Shelter Works' custom-engineered building. Drydon Equipment is a manufacturers rep that serves water and wastewater treatment operations for both industrial applications and municipalities throughout northern Illinois, Wisconsin and Michigan's Upper Peninsula. Drydon Equipment works with clients to provide just the right equipment and consult on the latest technologies in both water and wastewater industries.
Chemical Feed System Needed
When a permit came up for certain nutrient limits in DuPage County, Illinois, Deuchler Engineering began designing an enhanced phosphorus removal system for the Knollwood Waste Water Treatment plant and called upon Drydon to supply the equipment needed for a complete, enclosed chemical feed system for biological phosphorus removal.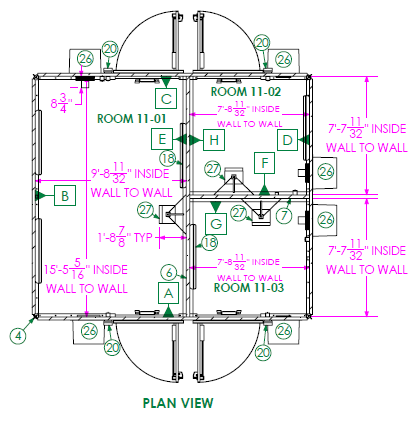 Custom Solution
Because of the way the system was designed, the building had to be constructed of three completely separate compartments. One room housed the chemical feed system itself. The second room protected a water heater necessary for the system. The third compartment contained a SCADA system that had all the computers, instrumentation and controls necessary to properly monitor the system and communicate back to the personnel in charge of the systems. This was no problem for Shelter Works, as every building is custom-engineered to fit exactly what each individual application requires.
In addition, the building itself needed to be chemically resistant, as ferric chloride would be used in this process. Ferric chloride can be corrosive to metals, but Shelter Works' fiberglass construction provided the perfect solution for this project.
Great Price, Great Design, Great Construction
"Everyone was happy to have this cost-effective solution all in one–three isolated rooms all in one great-looking fiberglass building. We were able to install it quickly and efficiently, lifting this one building from the flatbed to the pad to be completely set up in a matter of hours." George concluded, "Shelter Works allows us to deliver the whole package–not just the equipment itself but also the best protection for that equipment at a great price."
If you have a chemical feed system you'd like to protect, give us a call or contact us via our website. We'd be happy to help.