Three Room Shelter SolutionCase Study
THREE IN ONE PROTECTION FOR DRYDON'S CHEMICAL FEED SYSTEM
Chemical Feed System Needed
DuPage County Illinois recently made some facility upgrades to their Knollwood Wastewater Treatment Plant to upgrade the plant's processes to meet the phosphorus removal requirements outlined in their operating permit. Deuchler Engineering did the design and specifications work for the upgrade and they worked with Drydon Equipment, Inc. to supply the equipment needed for a complete, enclosed chemical feed system for biological phosphorus removal. They used a Shelter Works fiberglass building to house the system.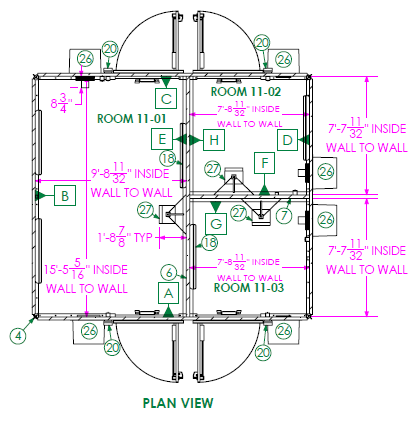 Custom Solution
A fiberglass building was specified because of its high chemical resistance. Ferric chloride, a chemical used in the water purification process, is considered to be a high fuming chemical that can be corrosive to metals.
The system design required the shelter to be constructed with three separate compartments, with individual access doors.
Room One - Chemical Feed System
Room Two - Water Heater
Room Three - The SCADA system consisting of the computers, instrumentation, and controls necessary to properly monitor the systems.
Each room was designed to provide the proper operating environment for the equipment it housed while limiting exposure to chemicals and fumes for the equipment not directly attached to the chemical feed system..
Great Price, Great Design, Great Construction
"The neat thing about this cost-effective chemical feed system solution is that it was able to be designed all in one piece." That's what George Argiris, Sales Representative for Drydon Equipment, explained about the Shelter Works' custom-engineered building. "Shelter Works allows us to deliver the whole package–not just the equipment itself but also the best protection for that equipment at a great price."
Drydon Equipment is a manufacturer's representative that serves water and wastewater treatment operations for industrial applications and municipalities throughout northern Illinois, Wisconsin, and Michigan's Upper Peninsula.