Telecommunications Equipment ShelterCase Study
Protecting Telecommunications Equipment in DeKalb County In the Most Cost-Effective Manner Possible
Telecommunications equipment is critical to public safety communications because it broadcasts messages for police officers, fire officials and 911 calls. This is why it is vital that they be protected properly, but maximizing tax-payer dollars is also important.
The Dekalb County Sheriff's Office was in the process of upgrading their public safety communications systems by adding three new radio tower sites. All the telecommunications equipment sits at the base of the 350-foot high towers located throughout the county. These fiberglass equipment shelters house new digital radio systems and are backed up by standby emergency generators with automatic transfer switches protecting this vital infrastructure and the public safety communications systems for fire, police and 911 calls.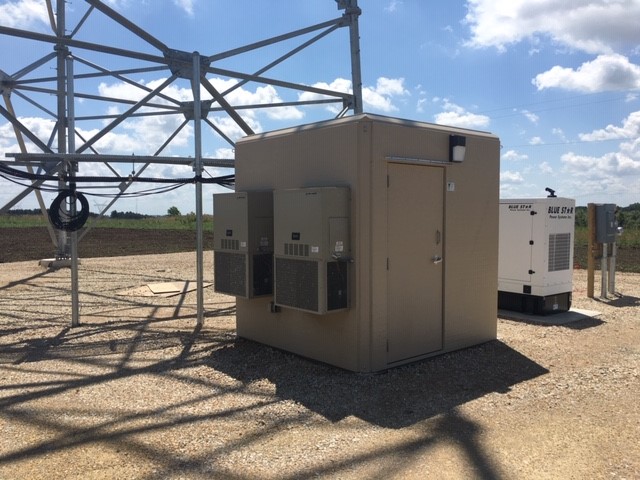 Concrete or Shelter Works Fiberglass?
County officials were accustomed to building concrete block buildings to protect this type of equipment, but the engineers that were hired to manage and execute this project introduced them to the Shelter Works fiberglass option. After exploring both the concrete and Shelter Works' fiberglass shelters, they concluded that Shelter Works provided a better solution for the county. Chief Deputy Andrew Sullivan explained, "Shelter Works protection came at a much better price, is very functional, is leakproof and should last us a very long time." What they discovered is that by having Shelter Works protect their telecommunications equipment, they will enjoy the lowest lifetime cost of ownership and have a virtually maintenance-free building that comes with a standard 25 year warranty.
Custom-Engineered
Throughout the development process, the Dekalb County officials found that because each shelter is custom engineered, they could get exactly what they needed and maximize the space, inside and out. They specified the heating and air-conditioning units needed to make sure the equipment is maintained at an appropriate temperature for maximum operation throughout the year. Inside the shelter, they could add any number of racks necessary to accommodate the public safety communications radio system needed. In fact, although it became a tight fit, this 8' x 8' configuration actually allowed for the flexibility to go from a two-rack system to a three-rack system as they progressed.
If you're looking for the most cost-effective solution for your telecommunications equipment, public safety communications systems or other critical infrastructure, give us a call. We'd be happy to help