Telecommunications Shelter in the ArticCase Study
Customized Shelter for Extreme Weather Environment
Ten miles outside of Anchorage, Alaska, there sits one of Shelter Works' telecommunication shelters, protecting an 8000-pound battery plant, relay racks, cable trays, fiber optic cables and coax cable as well. GCI Communications Corporation is the largest telecom carrier in Alaska, providing wired phone service, cell phone, Internet, Cable TV and data systems for the vast state of Alaska. They reached out to Shelter Works to meet their very exact specifications for a custom-engineered telecom shelter.
GCI Communications Corporation maintains a facility that handles telephone, cable, wireless and internet services throughout the state of Alaska. This telecommunications shelter is co-located with a fire station and a natural gas pump station and needed a fiberglass telecom shelter to protect the telecom equipment that could meet special requirements in terms of functionality, protection from the Alaskan weather, integration equipment, and finally, color.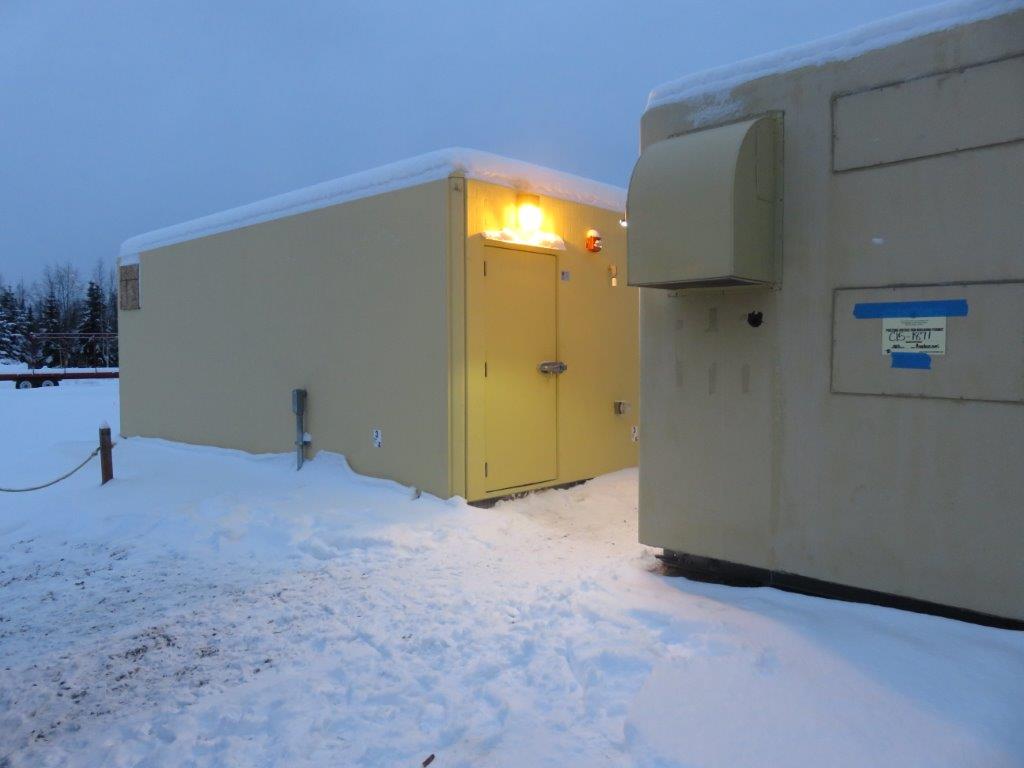 "We were looking for a fiberglass telecom shelter that was aesthetically pleasing, built for Alaskan winters, and included an integration package all in one. I wanted one-stop shopping. I didn't want to get a building and then have to hire separate contractors for all the integration work that needed to be done. I've done that before and it slows everything down, is hard to manage, and isn't very cost- or time-efficient. I did not want to go down that road again, so when I found that Shelter Works makes custom telecommunications shelters, I was happy," explained Geofrey Pamplin, Facilities Engineer for GCI Communications Corp.
He went on to explain, "In addition to the integration work, we wanted a custom shelter in a certain color. The existing natural gas pump station that sits next to this telecom equipment shelter was a particular yellow color. People involved with the project wanted to match this color in order to maintain a pleasing aesthetic." It was easy for Shelter Works to include a custom gel coat in the development of the building; Pamplin worked with staff members to match the exact color using paint swatches.
Customized Floor
The floor structure was another challenge that needed special attention. The significant 8,000 pound weight of the battery plant required a weight distribution plate and an intricate reinforcement structure under the back three feet of the floor to accommodate 1500 pounds per square foot.
In Alaska, they do not use concrete slabs for such projects for two main reasons:
Frost heaving is prevalent with such extreme winters
If additional floor penetrations are required, it is impractical to bore through the concrete.
Enhanced Insulation
At its coldest, the facility can sustain several weeks of -20 degree temperatures and up to 2-3 feet of snowfall per day. For those servicing the equipment, they cannot afford to have the cold penetrate these telecommunications shelters, so proper insulation in the floors, walls and roofing is a must.
These factors, combined with the need for a rodent guard on the bottom, posed no problem for the engineers at Shelter Works. The entire building has a full vapor barrier with no thermal bridges. Unlike any other telecom building manufacturers, this feature is unique to Shelter Works and comes standard with their composite design. In addition, there is a thermal barrier in the floor to isolate sub-zero temps from transferring from the steel base through to the interior floor.
While most of the snow is very dry due to the low temperatures, the spring snow can be quite wet and heavy, so the roof had to be developed in such a way as to handle 125 pounds of snow per square foot.
Heat Protection
All weather conditions need to be factored into all Shelter Works telecommunications shelters. While summer temperatures only reach 65-70 degrees, it can seem so much hotter. The intensity of the continuous sunlight caused by the tilt of the earth towards the sun in summer, along with the heat generated by the equipment, means that multiple air conditioning units are also needed. A fire alarm and a free air cooling system can also operate off of the direct current battery plant in the event of a loss of power to ensure continual functionality.
The electrical requirements of such a telecom shelter are quite extensive, with relay racks that hold 500 pounds of equipment, cable trays, fiber optic jumpers, Ethernet cables, multiple air conditioning units and other integration necessities.