Telecom Shelter in a Tropical EnvironmentCase Study
Enhanced Hurricane, Humidity and Temperature Resistance
The fiberglass shelter was to be installed near the coastal waters of the Caribbean. Because this location was in a hurricane-prone, windborne-debris protection zone (generally within 1 mile of the coast), wood was encapsulated in all the walls and roof to supplement the inherit strength of Shelter Works' proprietary FiberBeam construction. Because of the extremely humid environment, the wood of choice was upgraded to marine grade plywood (MGP) for added protection in the unlikely event the end user made a penetration through the exterior fiberglass surface that was so poorly sealed as to allow moisture to slowly seep into the center core of the structure.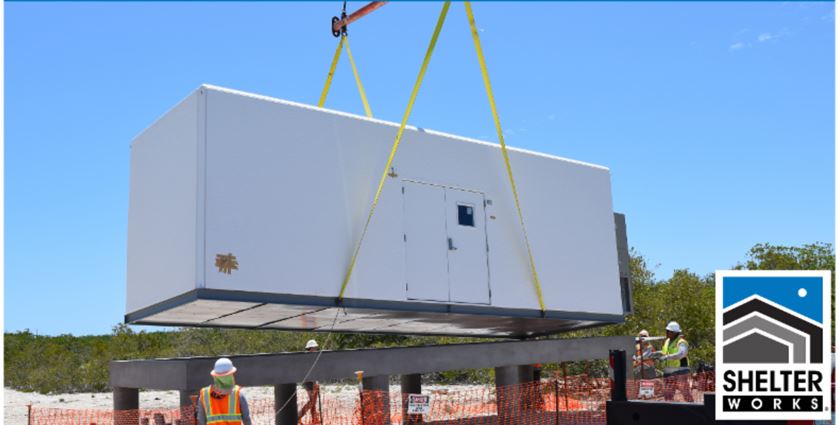 Two air-conditioning units control the temperature and make sure that the interior telecom equipment stays cool to maximize its life. These units are electronically wired to a lead lag controller connected to the Internet. This lead lag controller allows remote control of many climate control features including to alternating which air-conditioning unit begins operating first. This reduces the stress and preserves the life of the air-conditioning units.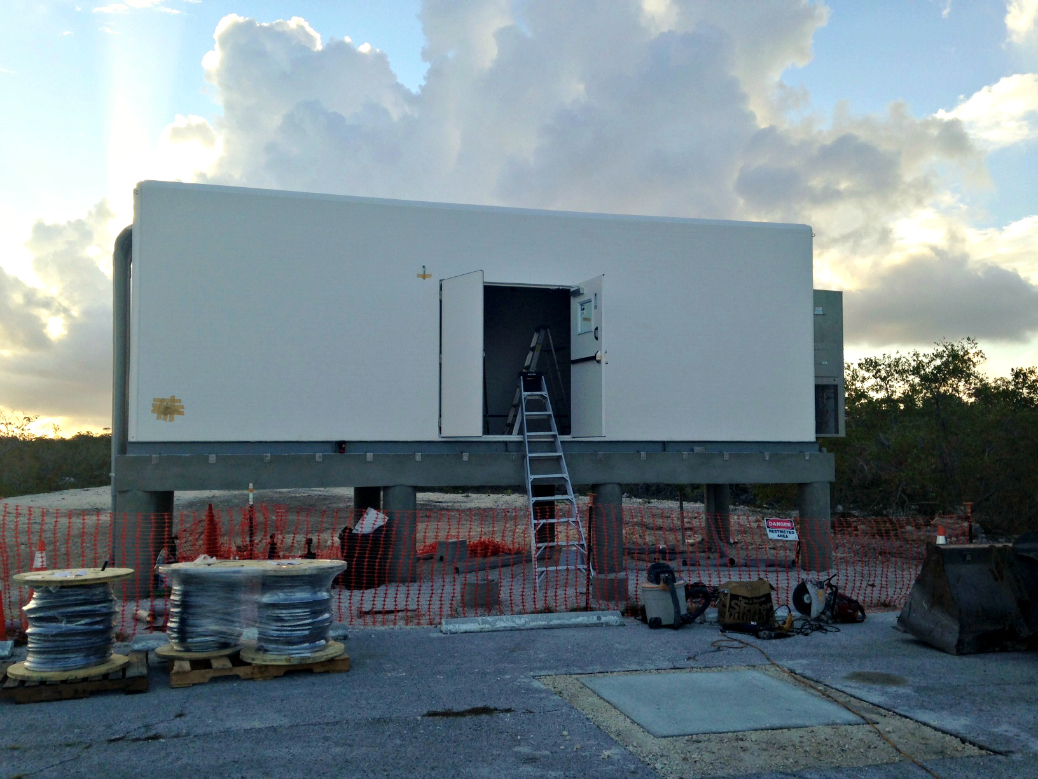 Both air-conditioning units were located on a short wall where they shipped mounted, wired, and ready for immediate operation. If an air conditioner were located on a long wall, either the wide load shipping cost would be increased or extra effort at the job site would be needed to mount and wired the air conditioner.
Bulkheads in the walls allow for multiple entry points to be added to the structure walls without negating or adversely affecting the 25 year warranty that comes with every building.
Shelter Works follows a building right through to complete installation and occasionally, even after a building leaves our production facility, there is still something that needs to be done. For this particular building, a small 12 inch section of the wall had delaminated during shipping. This rare occurrence proved to be no problem for the Shelter Works team. Within a week of the discovery, Don Scheck, one of our veteran fiberglass craft masters traveled to where the building was been installed and repaired the delamination in the field. Our goal is that every customer is completely thrilled with every aspect of their Shelter Works experience.