Shelter Protection for Feed Systems & Monitoring StationsCase Study
OPTIMIZING AND PROTECTING AMERICA'S CHEMICAL FEED SYSTEMS & MONITORING STATIONS
When you offer chemical feed systems and monitoring stations, you need to think about how those systems are going to be protected, too. "It's important to us to deliver the whole package of high quality solutions to our customers' problems, and that includes protecting the field equipment in the best way possible." That's how Dan Glitto, Vice President at EquipSolutions explained how he sees their obligation to their customers' equipment. EquipSolutions is a company that provides turnkey chemical feed systems and monitoring stations for industrial and municipal facilities throughout the country. They are committed to ensuring that their customers' water treatment processes are operating at optimized levels, and they have chosen Shelter Works specifically because of the high quality of their customer service and their products.
Water is a critical component to optimizing so many manufacturing processes, whether it be for making steel, washing food, cooling power generating equipment, or a myriad of other applications where chemicals have to be delivered in extremely precise doses. The equipment for the parts of such processes is highly sensitive, and it is critical to optimize those procedures.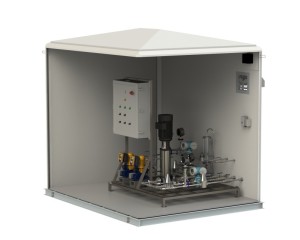 Saving Money and Time
For Dan's clients, the negative impact of chemical feed systems and monitoring stations that don't function properly can result in a very costly unscheduled facility outage or the loss of tens of thousands of custom revenue dollars due to diminished production efficiencies. So it's important for them to help their customers get it right, to have properly functioning equipment at ALL times. That means they need to properly protect the equipment and processes with the best.
When asked to explain why he had chosen Shelter Works, Dan explained,
"We were frustrated with some of the other FRP equipment building suppliers we had been working with and had heard about Shelter Works, so we thought we'd give them a shot. The team at Shelter Works was fantastic. We have stuck with them now because their customer service is outstanding and the quality of their building is head and shoulders above the competition. Sometimes our chemical feed systems and monitoring stations have to have a custom containment basin, a special door height or electrical package, bulkheads or some other unusual requirement and so Shelter Works custom offering works for us to be able to deliver exactly what the application requires. It's important for us to do business with someone whose quality standards are as high as our own. It's rare to find but that continues to help us create a positive image for our company."