Remote Hydroelectric FacilityCase Study
Equipment Protection For Hydroelectric Facility In Remote Location
The West Fork Upper Battle Creek Diversion project, a $46 million expansion of Alaska's largest hydroelectric facility at Bradley Lake Dam, sits about 30 miles northeast of Homer at the head of Kachemak Bay. The facility supplies wholesale power to six electric utilities that comprise the Railbelt electrical grid. The project expects to increase the practical power production capacity at the Bradley Lake Dam by approximately 10% and add around 5,000 homes to the Railbelt region's main grid.
PROTECTION FROM THE ELEMENTS
The two-year project consists of laying a 1.7 mile-long pipeline to redirect glacial runoff to the Bradley Lake Dam, and a three-mile access road leading to the diversion site. Shelter Works worked with GMC Contracting of Anchorage, AK to provide ten fiberglass shelters that were placed along the access road to house and protect the pipeline's intake air valve access port assemblies from the elements. Each 6' x 9' x 8' shelter has a 3.5" foam core insulation furnishing them with an R-Value of R-24 to prevent the pipeline from freezing in average winter lows of 21°F that can dip as low as 3°F.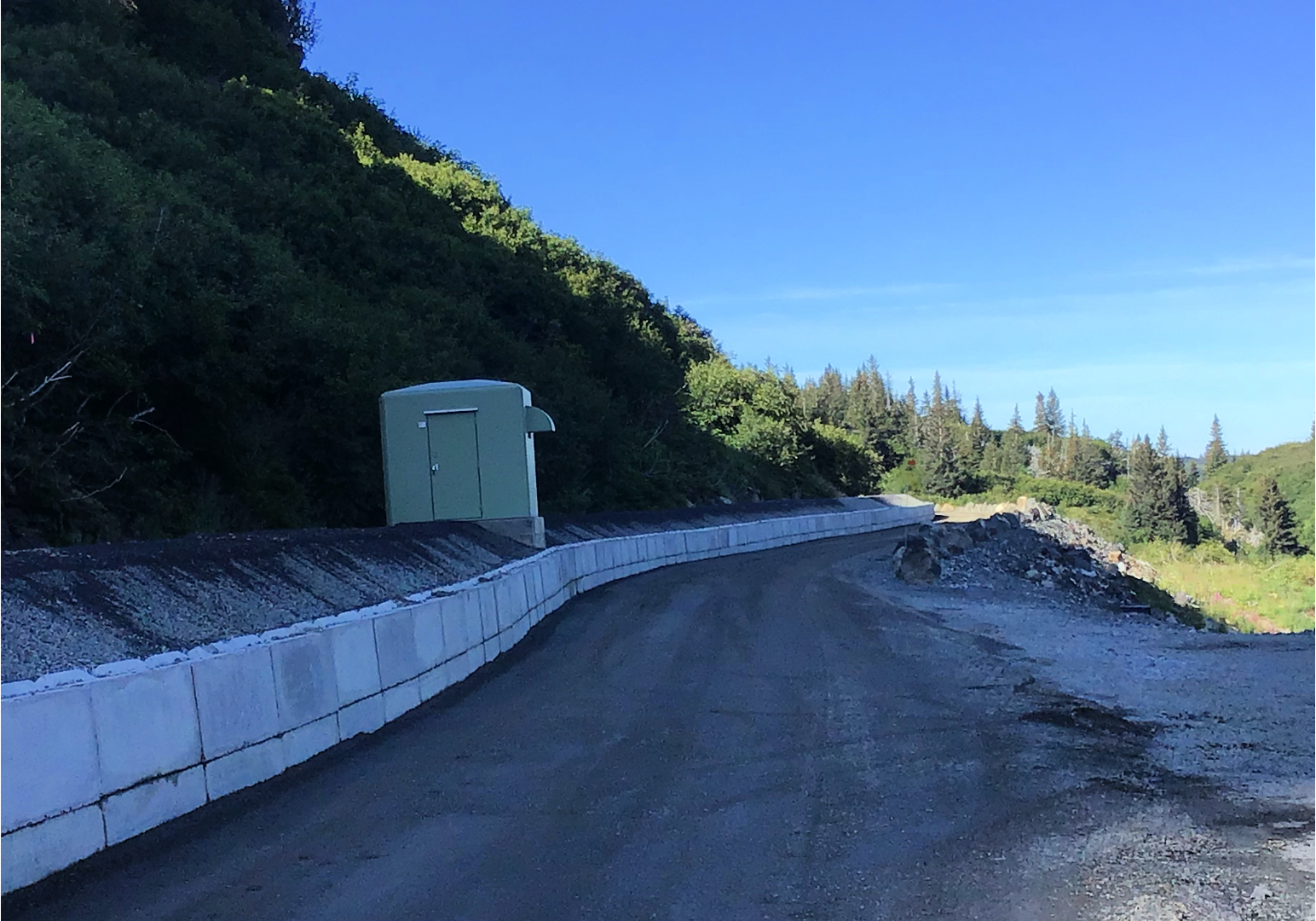 LONG LIFE BACKED BY 25 YEAR WARRANTY
The customer chose Shelter Works fiberglass field equipment buildings because of their longevity and 25-year warranty. The minimal maintenance required by the enclosures makes them the perfect solution for remote locations. Knowing the shelter is backed by the 25-year warranty provides additional peace of mind.
WHY SHELTER WORKS
According to Cherie Ball, Contract Administrator for GMC Contracting, this was their first time working with prefabricated fiberglass buildings. They found the 3,940 miles between production in St. Louis, MO, and installation in Kachemak Bay daunting, not knowing what to expect, but ultimately the entire process ended up being smooth and Shelter Works provided a quality product. Ball stated, "The staff was professional, friendly, and helpful from the estimate process to the coordination in dealing with the shipping company." Asked if GMC would work with Shelter Works again Ball said, "Yes, and I already have, and will continue to recommend Shelter Works to other Alaska contractors who need fiberglass buildings."