Fiberglass Railroad Bungalow Case Study
Customized Fiberglass Shelter for Union Pacific
Need a railroad bungalow? Anyone who's been near railroad tracks knows that sometimes, equipment needs to be squeezed into tight spaces. With trains coming and going all the time, safety is a top priority.
Union Pacific needed a customized fiberglass building to protect a hot water tank and store cleaning supplies. The railroad bungalow needed to sit adjacent to the rail track right at the entrance to one of their yards. The wooden building they had was not performing up to par; the structure was deteriorating (rotting due to the severe weather). Normally, their internal Structures Department would be called in to build a new structure, but circumstances required that they go outside for this railroad bungalow.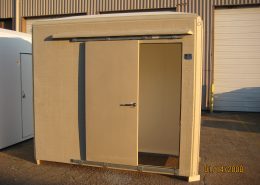 Because the fiberglass shelter was right next to the tracks, there could not be any doors that swing out (potentially in the path of an on-coming train). A sliding door was used instead to allow easy access to the railroad bungalow without causing any safety concerns.
Claude Ambrose of Union Pacific Railroad explained, "This building is the only one of its kind. Shelter Works was able to customize the building to meet our exact specifications. The Shelter Works solution was perfect for our needs and is working great!"