Pumping Equipment Shelter in LandfillCase Study
Meeting Demanding Specifications With Ease
When it rains on a landfill, the water runs through the garbage and becomes contaminated. This contaminated water is called "leachate," which must be handled very carefully. In order to properly treat leachate and eliminate the contaminants, there are several processes that a landfill facility must set up. Not too long ago, a Shelter Works building was installed at a landfill in Maryland as a part of just such a system. The shelter houses pumping equipment that connects to two large leachate storage tanks; those pumps mix the liquid in the tanks in order to ensure that the contaminants stay in suspension until the liquid can be moved to a pretreatment facility on site.
There are several reasons that the Shelter Works building was specified as a part of the project. Dwight Swan, who works in the sales office at Envirep, worked with the engineers to streamline the process by facilitating the drawings and the equipment specifications. He explained, "They specified the Shelter Works building because the engineers wanted one manufacturer to supply a complete pre-engineered system including fiberglass shelter, HVAC, explosion proof electrical, prefab wall penetrations for piping, and FiberBeam structural technology" All of these important details have led to another successful Shelterworks project.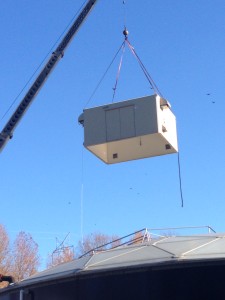 Because so many pipes come in and out of this building, there were bulkheads fabricated into the walls. Russ Younkers, Project Manager for the facility, commented about how well Shelter Works built the bulk head where the process pipe penetrates the side walls. Having bulkheads eliminates the end user from cutting into the walls of a brand new building and potentially compromising the insulation inside the shelter walls.
Another key feature that this building has is a full "explosion-proof" electrical system. Explosion proofing is required because any structure that sits on a landfill is subject to the potential for methane gases to seep up from decomposing materials underneath the building. An explosion-proof electrical package protects against hazardous situations that may result from electrical sparks. This was no problem for Shelter Works, as it is a specification we fulfill on a regular basis.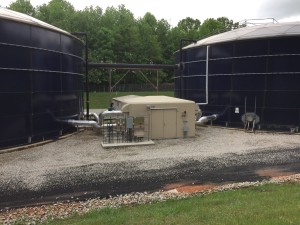 The installation of this building was quite tricky because the existing tanks are enormous, so the only way to install the shelter was to lift it in to place using a large crane. They had to lift it high enough to clear the existing leachate storage tanks while setting the shelter into its final position. Fortunately, the building is lightweight, which made installing the open-bottomed structure very easy.