Chemical Equipment ShelterCase Study
Containment Floor Protects Against Spills
"I didn't know you guys could do that!"
That's what one long-time client said to us when he heard that we had built a containment floor for another client. A containment floor does exactly what it says. It contains liquids preventing them from leaving the building.
We just finished a containment floor for a shelter that is headed to a nuclear power plant that services the Midwest. It will house the bleach and bromine equipment that's used in one of the plants cooling systems. Chemical spills could be problematic, therefore, they need to be contained until they can be properly cleaned up.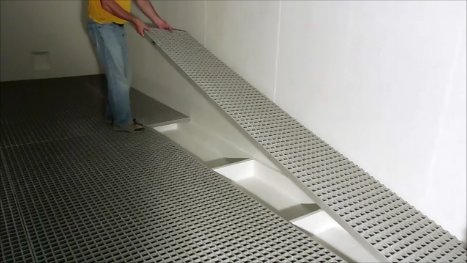 Sectioned area of containment floor to sit below shower area.
"Anytime you are dealing with potentially hazardous chemicals, you need to take extra precautions," explained John Miller, Director of Sales & Operations at Shelter Works. "By having a containment floor we've added an extra layer of protection for the facility. In addition, the floor construction allows workers to continue to walk on the elevated floor safely even if a spill has occurred. This Shelter Works building has been specifically designed to provide added peace of mind for our clients."
This particular containment basin is 4 inches deep, allowing the building to hold up to 500 gallons of fluid. Besides for being made of our proprietary composite fiberglass construction materials, it's also covered with an easily removable fiberglass grid flooring material that allows the liquid to be contained below the walkable surface. Additional structural elements were built in to the original construction of the floor to support the weight of the equipment that will be housed in the fiberglass equipment shelter.
Another interesting element of this shelter is that it included an emergency shower for the safety of the workers. The shower stall needed to have a hole that would drain water from the shower out (as opposed to the containment floor, which is meant to keep fluid in). In order to accomplish this, the subfloor was divided into two separate sections and the contained area under the shower included a drain to flow the shower water out.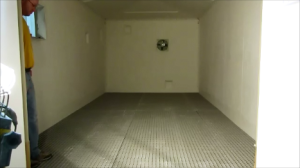 Completed containment floor with a fiberglass grated walking surface.