Long Lasting Equipment ShelterCase Study
The Shelter May Last Longer Than
The Equipment it Protects
There were three 15-year-old wooden frame well houses rotting in the heat and humidity of a military base in the Southeast region of the United States. A leading water well contractor was called upon to update the facility, which they did by replacing the rotting buildings with three fiberglass field equipment shelters from Shelter Works.
In addition to the pumps, these little water well houses protect electrical equipment and control panels for the pumps. These shelters have small vents, a fan and heating units to regulate whatever temperature fluctuations arise and combat the sticky humidity that plagues that region.
We asked the Operations Manager for this contractor why they ended up recommending a Shelter Works shelter. "These shelters have a great reputation, are much more secure and with a 25-year warranty, will last longer than the previous stick-built structures that were there before. As a matter of fact, the shelter will probably last longer than the new equipment it is protecting!"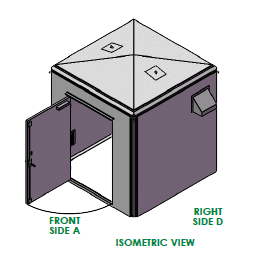 Removable Roof
One of the most unusual aspects of these well houses is the fact of the roof is removable. Because Shelter Works well houses will last so long, the equipment will eventually need to be replaced. Heavy well pump equipment can be more easily managed with a crane, so it made sense to specify a removable roof with special steel lifting eyebolts that make it easy to lift off with any kind of construction vehicle.
Whether you are dealing with challenging environments or unique access issues, Shelter Works shelters can be customized to any specification that you require.
To find out more about our removable (and other) roof options, click here.