Limited Space for Equipment ShelterCase Study
Amsted Rail
Amsted Rail makes the undercarriages of railroad cars, building everything from wheels, axles, and bearings to brake systems, freight car components and more. They were looking to add processes and expand operations at their foundry in Granite City, Illinois, but space limitations within the plant real estate proved challenging to their expansion plans.
They needed a place to house the electric motor controls for their sand washing process, but the small square footage and limited options for mounting the motor controls forced them to expand outside the walls of their foundry. By adding an external building to house this equipment, they were able to expand without compromising the space requirements of their operations.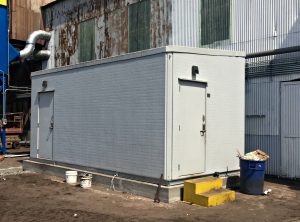 Customization With Shelter Works
The team in charge of this project was invited to tour Shelter Works' manufacturing facility so they could see for themselves what they would be getting. Mike Sutton of French Gerleman explained, "They did consider constructing a concrete block building, but when they saw how well-made and maintenance-free the Shelter Works fiberglass equipment shelters are, they determined that the Shelter Works building was the most cost-effective option. Plus, the 25-year warranty made this option even more attractive."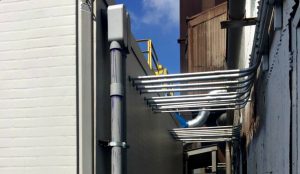 There were several special needs for the building, which is no problem for Shelter Works. In addition to a flat roof, the building had conduit runs that would be entering the rear of the building, so bulkheads were provided for the conduit entrance.
Sutton went on to explain, "Shelter Works installed and wired the interior/exterior lighting and mounted and spliced the equipment in the building. Throughout the entire process, Shelter Works was a pleasure to work with and met the deadlines we had. The project was delivered on time and on budget, and the client couldn't be happier."