Hurricane Proof Shelters?Case Study
The One that Survived was Built by Us
In September of 2005, Hurricane Rita swept through Texas and Louisiana and caused over $12 billion in damages. In the aftermath of this fourth-most intense hurricane, one of our representatives in Louisiana sent us these photos and said, "The enclosure did not even have a ding on it, even though there was ample damage to houses, trees, and other structures in the immediate area. You need to start claiming that your enclosures are 'hurricane-proof'!"
So, we looked into it. We knew that all Shelter Works fiberglass shelters were designed and built to withstand Mother Nature at her most extreme due to our exclusive FiberBeam™ Technology, but we hadn't had them certified up to this point.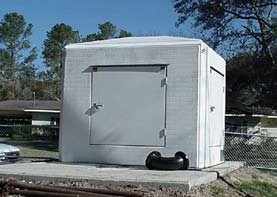 In 2012, we went through the process to certify our fiberglass shelters when one of our customers had a need to have their shelter rated to withstand 160 mph wind loads by an independent Professional Engineer in the State of Florida. When hurricanes rip through a town, our customers need to have confidence that their critical field equipment is protected-even in a Category Five Hurricane.
Now, if your application requires a hurricane-proof shleter, give us a call. Every Shelter Works shelter is backed by the strongest guarantee in the industry to protect your critical field equipment.
Check out more about how our proprietary FiberBeam™ Technology makes our shelters so resilient.