Equipment Protection at High ElevationCase Study
Rocky Mountain Shelter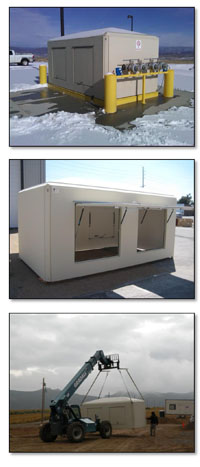 Located in a valley along the Piceance Basin, this custom fiberglass shelters sits at an elevation just above 6000 ft (1.15 miles). It protects control valves and piping used as part of the treatment and reuse system for water produced from oil and gas operations.
Protection From The Elements
Durable fiberglass buildings are a practical solution for field equipment protection in cold-weather areas. They are resistant to wind, moisture, and snow. Fiberglass also has excellent insulative properties that prevent heat loss. This shelter, with standard 1.5" insulation and a field-installed heater, maintains an interior temperature well above freezing, protecting the equipment from the winter cold and snow.
Access To Equipment
This custom-sized 8' x 14' x 6' shelter doesn't have doors. Instead, it has four hatches, two on each of the long walls, that are held open by gas springs so a technician can access the equipment. When not in use, the hatches are locked in place with pad-lockable 2-point door hardware.
Custom Color
Shelter Works color matched a paint sample provided by the customer. The end-user chose a custom "Light Stone" color to blend the building with its environment and maximize its attractiveness.
Randy Kenyon, Professional Engineer for CGRS, Inc. Kenyon told us that the client was pleased with the shelter. He sent a photo of the building in use and commented, "It is working very well. It is heated inside to about 70 degrees, but you will notice that it is insulated so well that the snow didn't even melt off the top!"