FRP Building for Analyzer Integrator Case Study
FROM PREFABRICATED EQUIPMENT SHELTER TO A FULLY INTEGRATED ANALYZER SHELTER
There are customers who provide the convenience of putting together many different elements to sell as an integrated package. Precision Pipeline Equipment, Inc. is one such customer. Precision Pipeline provides the natural gas industry with a unique, fully integrated analyzer shelter that they sell to companies operating throughout the Midwest and into the Northeast. Shelter Works prefabricated equipment shelters have long been a trusted resource for Precision Pipeline Equipment, Inc..
Co-Owner Ray Schnebelen explains why they chose Shelter Works prefabricated equipment shelters. "These shelters have superior durability and longevity for the needs of the natural gas industry. Everybody loves how maintenance-free they are. We get a lot of repeat customers, because of the 25 year warranty, because of the high quality, and because of the clean rugged design. Our analyzer shelter is really popular, because it provides a dry, comfortable building for the field technician to work on the equipment. They're dry and secure, they can be locked, and there are no wind gaps. Most clients prefer to have analyzer systems housed in temperature controlled environments, which means they need heat in the winter and air conditioning in the summer."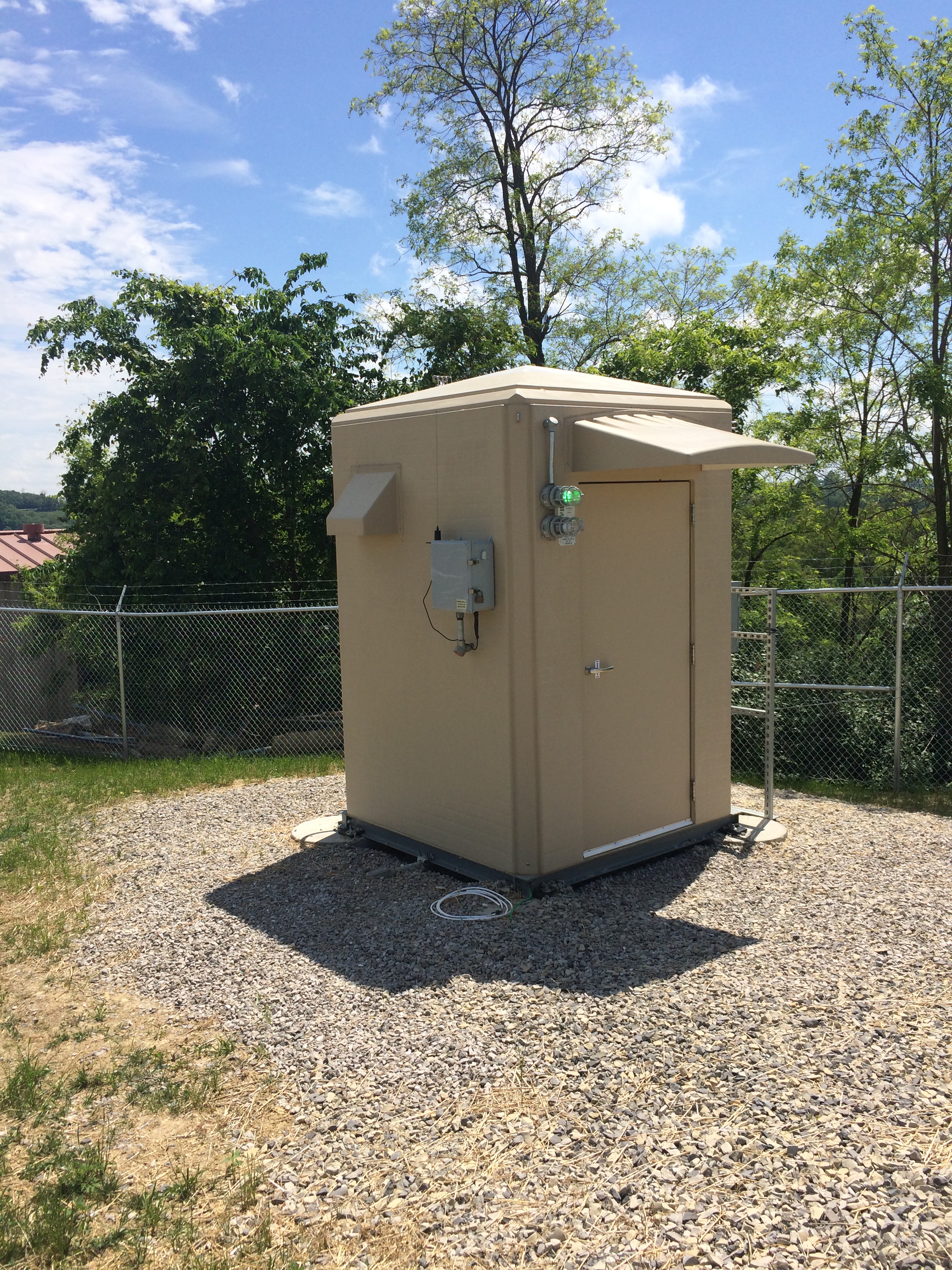 Customized to Client Specifications
These fiberglass enclosures can be small (perhaps 6' x 6'), sometimes an 8' x 8' and often a larger 10' x 12′ size. Every analyzer shelter is customized to the client's specifications, following each state's requirements for wind loads, seismic loads, etc. Every analyzer shelter has an explosion proof electrical package for the many electronics inevitably included in the building. The engineers in each area need to follow whatever the state-mandated specifications are, and the flexibility of the Shelter Works equipment shelter makes that easy to accommodate.
Meeting State Requirements
"They are one of the few equipment shelter manufacturers that can meet state label requirements. In fact, they are currently the only fiberglass manufacturer that is approved in Ohio, which is very stringent in their requirements." Schnebelen continued, "We've been with Shelter Works since the inception of the company, and we love the fact that we can customize these prefabricated equipment shelters exactly as needed."
"Additionally, their PE drawings are complete and very thorough, which makes our projects go more smoothly. It's important to get it right, with equipment that can include gas analyzers to monitor the measuring componentry installed inside the pipe lines. This equipment is necessary for the proper operation of these processes for the natural gas industry, and this equipment needs to be properly protected."
Another advantage of these equipment shelters are that they are much more transportable than the metal alternatives that some engineers consider. That means that the prefabricated equipment shelters (which arrive fully constructed) can be stored in a storage yard and then moved to the final site at a time that is convenient for the construction crews.
Interior Wall Supports in Each Analyzer Shelter
Precision Pipeline Equipment appreciates these prefabricated equipment shelters because for each individual analyzer shelter, Shelter Works provides a convenient system for interior wall support in any configuration required. This allows for equipment to be easily hung anywhere on the wall in a manner that is a lot less complicated than what would be required to accomplish the same effect in a metal building.