Frangible Shelter with added R-ValueCase Study
The Ideal Solution for this Airfield Application
Equipment shelters need to protect equipment from everything: freezing temperatures; snow; ice; rain; blistering summer heat; vandalism; and occasionally, from errant aircraft that may smash into them.
Extreme Temperatures and Your Equipment Shelter
Anyone who is been to upstate New York understands that region is susceptible to extreme temperatures in the winter. There is an airstrip on a military base that often experiences sustained temperatures of -20°F. On this airstrip, there is a refueling station for helicopters that had an old steel building that the military planned to knock down. Steel is a conductive material that is particularly susceptible to temperature swings (specifically expansion and contraction) and can easily transfer cold temperatures from the outside of the equipment shelter to the inside.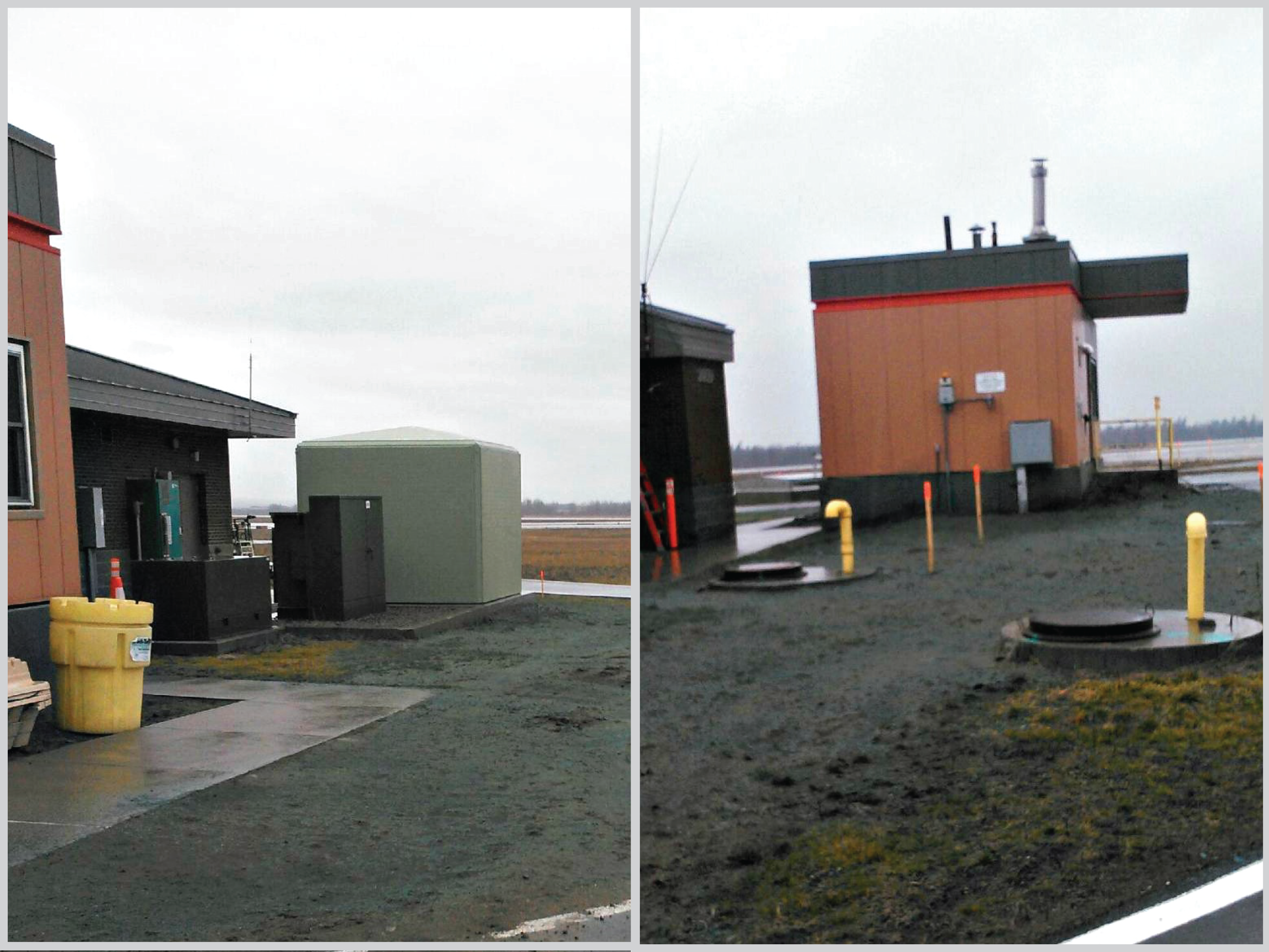 Shelter Works Beneficial Features
Protection from the Environment
As they were considering how to approach this project, the team assigned to this project determined that the mechanical room did not have enough room to properly house some electric power panels that service the refueling station. Todd Jewett, Senior Project Manager of Pemco Contracting, had seen a Shelter Works equipment shelter at this same military facility that was protecting sewer equipment and suggested that Shelter Works fiberglass construction might provide the perfect answer for protecting those electric power panels and provide those servicing the equipment with protection from weather whenever they needed to service these panels. The composite design provides an inherent thermal barrier and dimensional stability with low conduction. Because Shelter Works fiberglass equipment shelters are custom engineered, the team was able to specify added foam insulation during the construction of the walls and roof to get exactly the R-value they desired. Jewett said, "The fiberglass building is performing as needed, and we couldn't be happier. There have been no issues, which is exactly what you want from a building!"
Frangibility and Equipment Shelters
In addition to the thermal properties of Shelter Works fiberglass construction and the non-conductive nature of the building, Shelter Works buildings meet a frangibility requirement often specified for airfields. Many times, buildings that are on or near airstrips sometimes need to meet certain frangibility requirements–that is, if an aircraft were to hit the building, the specification calls for a building that would be frangible if hit by an aircraft. The reason is that it's a lot easier and cheaper to replace the building than it is to replace the aircraft. In addition to the highly attractive 25 year warranty, ultra-lightweight construction and maintenance-free nature of these buildings, Shelter Works buildings meet these frangibility requirements.