Fiberglass Shelters for Chlorination & Dechlorination Case Study
THE PROJECT
Environmental Improvements, Inc. (EI2) is a manufacturer's representative an industry leader in the supply & integration of chemical feed systems serving areas of Oklahoma and Texas. They recently used two Shelter Works fiberglass shelters as part of a chlorination and dechlorination system package for a new 1.5 MGD wastewater treatment plant.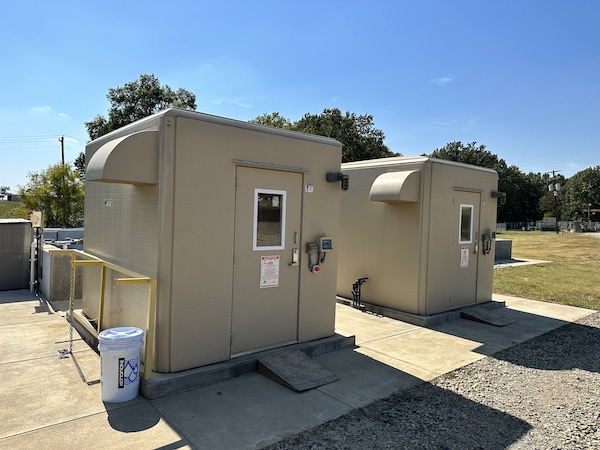 CHLORINATION AND DECHLORINATION
The identical shelters protect two different chemical feeder systems. According to Derek Willms, Project Manager for Environmental Improvements, Inc., the first shelter doses chlorine gas into the effluent. Chlorine is used to disinfect the water coming off the plant's disc filters after the solids have been removed. The effluent water then goes through a contact chamber to allow the chlorine time to disinfect the water.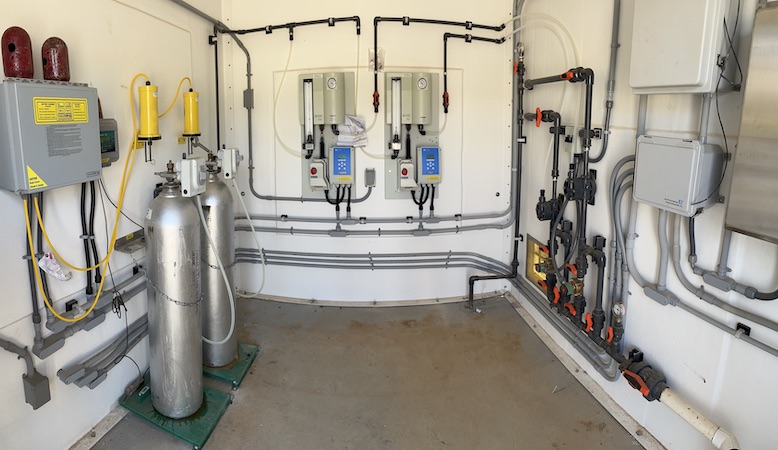 The second shelter houses the system that feeds the sulfur dioxide gas. Sulfur dioxide is injected at the end of the contact chamber to dechlorinate the disinfected water prior to discharge from the plant. This two-step process ensures that water released into the water supply is safe for the environment.
Chlorine and sulfur dioxide are both corrosive in the presence of moisture. Fiberglass is a preferred storage solution due to its superior resistance to water and chemical corrosion.
SHELTER FEATURES
ACCESS – 3 ft. single door with trip-proof threshold and laminated glass window. A trip-proof threshold allows for easy replacement of tanks and other equipment. The glass window allows the operator to see inside the building without entering. Providing a visual inspection for equipment failures before entering a potentially hazardous environment.
ELECTRICAL – Main lug panel with NEMA 4X enclosure, interior and exterior mounted switches, and vaporproof interior light fixtures.
HVAC – 12" Corrosion resistant shutter-mount intake fan with corresponding exhaust louver. Chlorine gas is denser than air and hovers lower to the ground in areas with no ventilation. The intake fans on these shelters pull in air near the top of the enclosure, causing circulation that pushes the chorine out of a lower vent.
THE END RESULT
Environmental Improvements, Inc. has been a manufacturer's rep for Shelter Works since 2019. These shelters shipped to EI2 in November 2020 and were some of the first shelters purchased by EI2 to be integrated into chemical feed buildings. They were installed on-site in April 2021.
When asked about his experience working with Shelter Works, Willms stated, "The first thing we noticed that set Shelter Works apart is the excellent quality and accuracy of documentation during the approval process. When the shelters arrived at our facility for equipment integration, we were very impressed with the quality of the product. Having used just about every shelter manufacturer over the past 2-3 decades, we can confidently say that the Shelter Works product is several steps ahead of the competition in overall quality and order execution. For these reasons, our company has standardized on Shelter Works for any and all shelter requirements."