Protecting Sensitive Equipment in the Arctic CircleCase Study
It's Not an Igloo, It's a Fiberglass Shelter
Did you know that our shelters are being used by the telecommunications industry? As a matter of fact, we are in the process of finishing some custom fiberglass buildings to be used as microwave repeater stations just south of the Arctic Circle. They will be heading to a remote region of Ontario, Canada just off of James Bay, between the Albany and Moose Rivers. The area is so off the beaten path it doesn't even have an official name. In order to find it on a map you have to use it's latitudinal and longitudinal coordinates.
Here's what it looks like on the ice road in James Bay: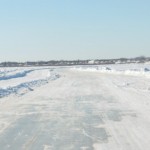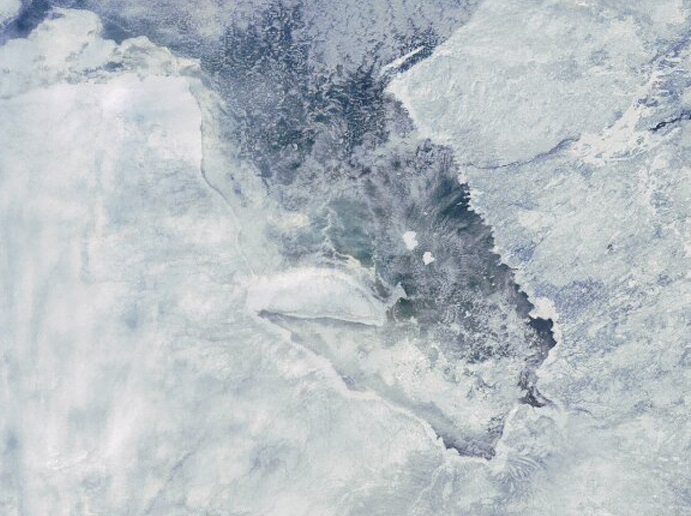 esnap.com James Bay, Dec. 2010
Given the extreme temperatures and harsh environment, our customer chose fiberglass over metal because our fiberglass buildings are:
STRONGER
Composite materials have the highest strength to weight ratio. With the use of our proprietary composite lamination process, FiberBeam Technology, our fiberglass buildings, pound for pound, are stronger than steel. This provides the structural integrity needed to withstand the heavy snow loads and winds commonly found in this area.
LIGHTER
This comes in handy when the costs associated with transportation are a concern. These telecommunications shelters will be located in a very remote area where there are no roads. Once they reach the rail yard in the closest town, they will then be loaded onto the back of a truck where they will travel a man-made ice road to their final destination. When you compare the weight of a fiberglass building to that of a metal building of the same size, the fiberglass one will weigh considerably less. This calculates into cheaper transportation and moving costs as well as ease of on-loading and off-loading.
BETTER INSULATED
These shelters have custom 6″ thick walls filled with foam insulation that provides for an estimated R-Value of 39. The average daily temperatures during the cold season, December through March, range from lows of -15 degrees F to highs of 16 degrees F. The average annual snowfall is 28″ and a large portion of that snow will not even melt until the Spring thaw. Without thermal conductors like metal or wood studs, the walls on these shelters will keep the cold outside, where it belongs.
VANDAL AND CORROSION RESISTANT
In some parts of northern Canada, polar bears like to tear the siding off of metal buildings. Our shelters lack the seams to make that possible. Shelter Works buildings are better suited for harsh and damp environments because they will not corrode, rust, rot or decay, making them virtually maintenance free. They also come with our 25 year Warranty.
CUSTOMIZATION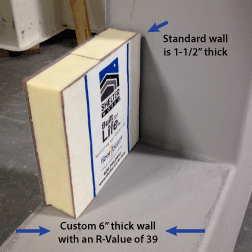 These shelters are multi-use and need a separate room to suit each purpose. We were able to split them into three sections by using partition walls. One room houses the telecom equipment and batteries for the shelter's intended use as a repeater station. The second features wall mounted bunk beds to be used if and when a service technician's helicopter is unable to depart due to inclement weather. While the third is for a generator room. Because there is no access to commercial electricity, these shelters will have to develop their own power by way of dual 48VDC generators which power a significant battery bank. The generators, located inside the shelter, are fueled by massive diesel tanks located on the outside. The diesel tanks need to supply enough fuel to last 3-4 months at a time.
At Shelter Works we excel at customizing fiberglass buildings for housing critical field equipment, and these shelters are no exception.