Pump House for Storage Pond Case Study
THE PROJECT
The Southwest WTP located in The City of Springfield, MO is a tertiary treatment facility that treats both residential and industrial waste. The plant is designed to produce a high-quality effluent for surface discharge by removing approximately 70,000 pounds of pollutants from the wastewater per day. The plant uses a storage pond to hold hauled grit and temporarily store excess storm water. Over time, erosion and grit build up in the lagoon has reduced the pond's holding capacity.
The Water Treatment Plant recently undertook an improvements project to remediate the existing lagoon and construct a new receiving site. A new pump was installed to move storm water from one pond to another, increasing storage capacity before periods of heavy rainfall, and they used a Shelter Works fiberglass building to safeguard the pump.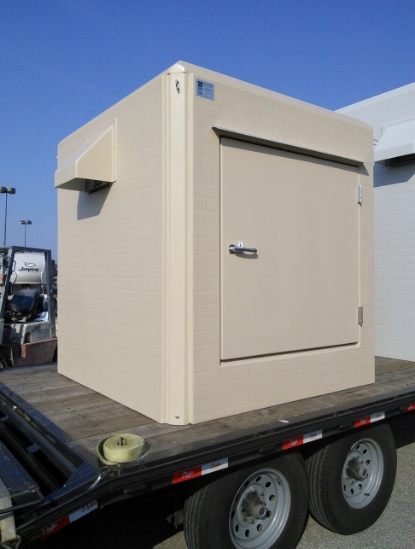 THE PUMP HOUSE FEATURES
The insulated fiberglass pump house protects the pump from the elements while ensuring an environment that stays above freezing to prevent equipment damage. The enclosure has a 1000-watt utility heater with radiant and convection heat for use when temperatures dip below freezing. It also has an exhaust fan with a thermostat to remove excess heat when needed. The 6' x 6' x 6' enclosure does not allow for a standard man door. Instead. it has a 4' x 4' side-hinged access panel, with 2-point hardware, that allows ample room for the technician to see and repair the equipment. The fiberglass enclosure also has a 12" x 12" bulkhead, a fiberglass-only area of the wall that allows for infield penetrations, in this case, for the pipe and stop gate. Since the holes are drilled in areas with no foam, neither the insulation nor structural integrity of the shelter is affected, keeping the warranty intact.
THE 25 YEAR WARRANTY
Shelter Works worked on this project with Brian Johnson, Senior Sales Engineer and Gold Certified Trainer at Haynes Equipment Company, Inc. Johnson explained that the end-user chose a Shelter Works fiberglass building because of the 25 year warranty and its promise of long-term durability. Johnson stated, "It's great to work with and promote quality equipment that the end-user appreciates and values."