Fiberglass Shelter for Corrosive EnvironmentsCase Study
Power Distribution Center Protects at a Battery Recycling Facility
A commercial battery recycling facility located in Troy, Alabama uses a smelting process to turn lead acid batteries, scrap lead and wheel weights into refined lead alloys. This secondary lead smelting facility houses operating pumps, fans, conveyors and generators which are used to power the smelting process. The company hired ENGlobal, an engineering firm that specializes in oil and gas automation solutions and subsea control systems to design and construct a power distribution center for the facility. We spoke with Jorge Medrano and Al Leblanc, project managers from ENGlobal, for more information about the project and its unique needs.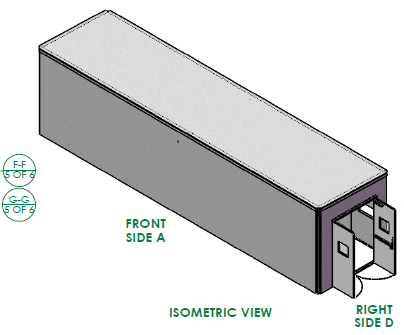 Corrosive Environment
Medrano explained that recycling these lead bearing scrap metals turns waste into usable materials but the process produces caustic dust that can create a corrosive environment. ENGlobal turned to Shelter Works to build a fiberglass protective structure to house its power distribution center. This fiberglass protective shelter securely protects their equipment without any negative effects from weather or the corrosive environment created by the smelting process.
While the facility is on land, it is mounted on an off-shore type structure and is constrained by equipment around it. To accommodate these limitations the Shelter Works FRP building had to be configured as a long, narrow building with access doors on either end. Since all Shelter Works buildings are custom designed, this was readily accomplished by the Shelter Works team. The Shelter Works building is housing computer equipment, SCADA screens, POC systems and transformers all of which send signals to other areas of the facility, where the vital data is reviewed.