Fiberglass Regulator Station Case Study
THE PROJECT
Powell Controls, Inc., established in 1996, is a manufacturer's representative and distributor of products used in the natural gas and power generation industries. Powell Controls is a one-stop shopping solution for valves. heaters, flow meters, flow computers, regulators, chromatographs, and Shelter Works fiberglass field equipment enclosures.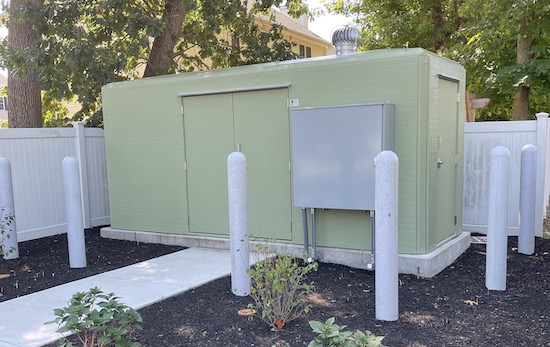 THE REGULATOR STATIONS
One of their customers, a municipal utility supplier in Massachusetts, currently houses four of their natural gas regulator stations in Shelter Works fiberglass buildings. The regulator stations, located within the city's distribution system, reduce the pressure of the gas to the appropriate operating pressure so it can be delivered to the end user.
The shelters protect the valves and pressure regulators from the elements while providing security from public access, tampering, and vandalism. Since they can be found in residential areas, they also present a more aesthetically appealing visual than valves, pipes, and instrumentation.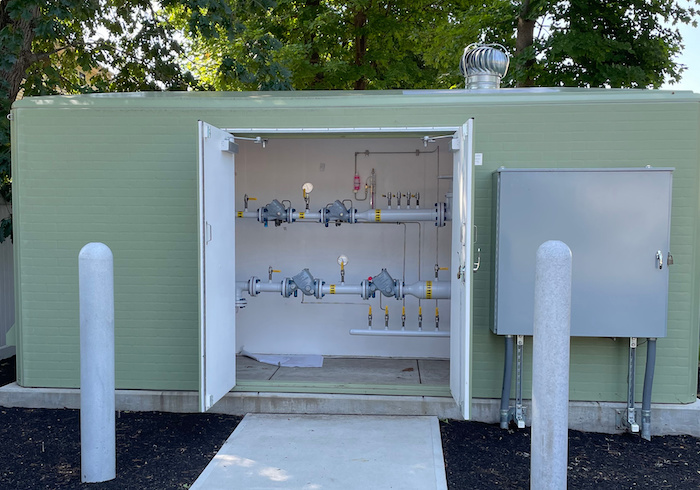 FIBERGLASS BUILDING FEATURES
Each of the four shelters includes the following features:
Multiple Entry/Exit Points - Each shelter has a double door on a long wall and a single door on a short wall for increased technician safety in case of an equipment malfunction or emergency. The double doors also allow easy access to equipment when it needs repair or replacement.
Natural Ventilation – Each shelter has vents on opposing sides of the building. A low vent where cool air enters the shelter causes warmer air to rise and exit the shelter through an upper vent. The shelters also utilize a wind turbine that uses natural breezes to encourage air circulation. When used in conjunction with each other, the vents and turbine create a natural cross flow of air causing the air to circulate.
Wood Reinforcement – Each shelter has one wall with 1/2 inch wood reinforcement throughout, where they mount the RTU (Remote Terminal Unit) that relays pressure information from the equipment to the SCADA for monitoring.
WHY SHELTER WORKS
Over the years Powell Controls has sold four shelters to this customer. According to Bob Powell, President of Powell Controls, one of the reasons they like Shelter Works fiberglass buildings is that they are long-lasting and require minimal maintenance. "The first Shelter Works building we put in 15 – 20 years ago. It's located in a shady area, so it had moss growing on it. They power washed it the other day and it looks just as good as the shelter that arrived six weeks ago."