Fiberglass Filter Separator Building Case Study
The Project
Relcon, a manufacturer's representative for Shelter Works, provides engineered solutions for freeze protection and temperature maintenance of piping, tanks, and process control instrumentation for industrial and commercial facilities throughout the Midwest. Their products are found in the industrial, commercial, and utility markets, including gas, electric, and water utilities, waste and water treatment, power production, process, petrochemical, and refining. They recently worked with Shelter Works to provide a custom fiberglass shelter enclosure to one of their customers, a natural gas distribution company.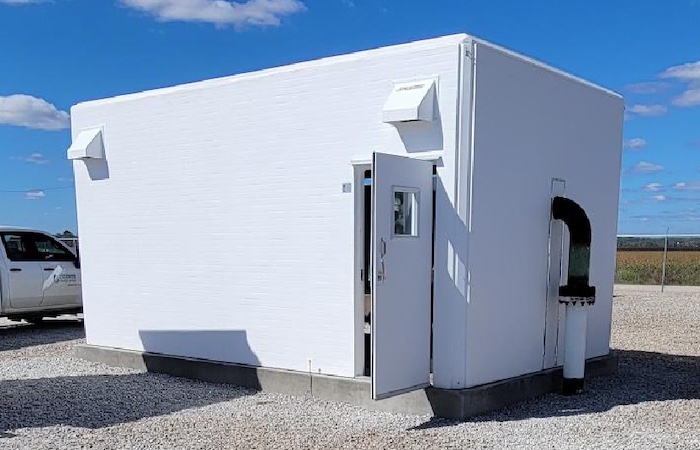 Filter Separators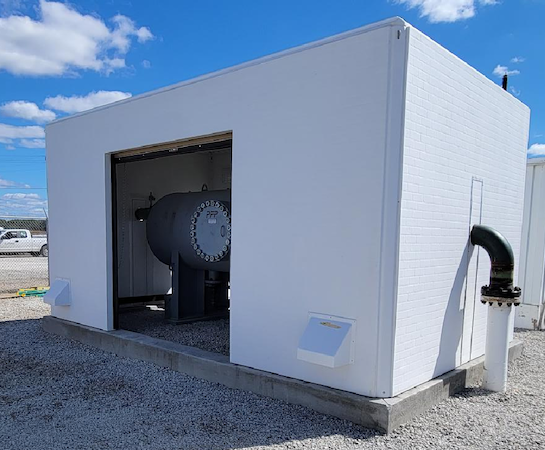 The shelter protects a filter separator from freezing temperatures and exposure to the elements. Andy Newquist of Relcon, explained that filter separators separate solids and liquids from natural gas. Specifically, they remove impurities such as pipe scale, water, iron sulfide, liquid hydrocarbons, compressor lube oil, and sulfur products. They are located at purchase points from the interstate pipelines (transmission pipelines), where pressure cuts can cause liquid to fall out. They are also used in underground storage fields where gas, withdrawn from the field for injection into the pipeline, can contain impurities.
Shelter Features
The 12' x 20' x 10' fiberglass building replaces an existing enclosure that was too small. It adds two feet to both the length and the width of the building's footprint, making it easier and safer to service the equipment inside.
Increased insulation: It was built with 2-1/2" (R-Value 18) insulation in the walls and ceiling for improved structural stability and reduced heat loss in colder temperatures.
Doors: The shelter includes a roll-up door that allows operators access to the filter's manway for periodic maintenance. There is also single-door access for secondary access.
Knockout panels: The two 12' walls have matching 6'-6" x 12" knockout panels, a removable cutout in the wall that allows for easy placement of the shelter over existing pipes. The panel is removed for installation, and a hole is cut in the panel to accommodate the pipe. Once the building is installed, the panel is replaced and secured with a supplied trim kit.
Ventilation: The shelter utilized natural ventilation. The two 20' walls have adjustable vents. One wall has two upper vents, and the opposing wall has two lower vents. When used effectively, natural ventilation results in a cost-effective way to maintain good indoor air quality when electricity is not available.
The End Result
Relcon has worked with Shelter Works on several projects over the years. When asked what it is his customers like about Shelter Works fiberglass buildings, Andy Newquist stated, "Our customer praise the high quality and durability the enclosures as well as Shelter Works ability to customize features to meet their variety of applications".