Fiberglass Building to Protect Chlorine Feed SystemCase Study
Protecting A Chlorine Feed System In Michigan
Chlorine buildings are used to store chlorine gas or liquid. They are designed to contain and control chlorine, ensuring worker and environmental protection. While chlorine is a beneficial chemical used in many municipal and industrial applications, in concentrated forms, it is a highly toxic chemical that needs monitoring. When used in manufacturing processes, it requires intelligent management.
A Michigan company required a new liquid chlorine vaporizer for their manufacturing facility. They wanted to isolate this process to optimize their chlorine feed system for safety. The equipment boils liquid chlorine to a gas at high volumes, which requires strong safety measures. The solution was to house this chlorine feed system in a separate Shelter Works building and feed the necessary chemicals, via pipelines, to the application points throughout the manufacturing process as needed.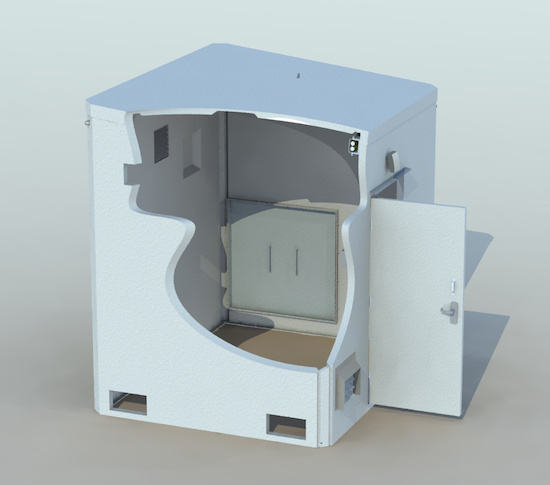 Why They Chose Shelter Works Chlorine Building
Custom Design
Shelter Works worked with Bob Seif from RS Technical Services, Inc., to design a custom enclosure to house the chlorine feed system. "Everything was custom," Seif explained. "Because the space we had to work with was very tight, this building required custom dimensions, a custom roof pitch, and several wall cutouts." A removable hatch on one side of the enclosure aids in maintaining equipment in an adjoining building. Knockout panels and bulkhead areas accommodate multiple pipes running to and from the chlorine feed system into the primary manufacturing facility.
Engineered for Safety
The ventilation systems for this chlorine feed system were all customized to maximize the safety profile of the building. An emergency ventilation system directs fumes to a scrubber system for a more robust environmental profile. Temperature-controlled exhaust fans and an air intake ventilation system add to the crucial ventilation security systems in this building.
Chemical Resistance
Unlike some other materials, fiberglass does not react to or leach most chemicals. It does not corrode or deteriorate in the presence of chlorine. It is a low-maintenance, cost-effective material commonly used to house chlorine feed systems.
Low Thermal Conductivity
The insulating properties of fiberglass (FRP) combined with 2" foam, standard in all Shelter Works enclosures of this height, meant that no heating systems were needed. The vaporizer generates enough heat on its own to maintain a working interior temperature in the shelter. Seif was enthusiastic: "I've purchased many prefab buildings, and pre-cast buildings, in particular, can be tough to heat. This Shelter Works fiberglass shelter is great."
Focused on Customer Service
"As a project manager, I really appreciated that the Shelter Works submittal package process was so professionally done (and within our timeframes)." Seif said, "Because of the intricacies of this project, we had to make changes to the AutoCAD drawings several times, and each time, the Shelter Works team was great about making the changes."
Easy Installation
Fiberglass shelters are lightweight and easy to transport. This shelter, weighing approximately 2500 lbs., arrived on-site, where it was easily lifted off the truck and put into place with a crane.