Explosion Proof ElectricalWhat exactly does "explosion proof" mean?
Since Shelter Works' shelters have been used in many applications requiring explosion proof electrical packages, our electricians are trained in the design and integration of these systems into the shelters we build.
Of course, since not all hazardous environments are the same, our first step is to determine your specific needs. The National Electrical Code (NEC®) has set up a classification system to help you understand the differences between hazardous environments. In this classification system there are three classes which are classified by the type of ignition source that may be present.

CLASS I: GAS & VAPOR

CLASS II: DUST

CLASS III: FIBERS & FILINGS
The majority of the hazardous environments our customers work in are considered Class I, because they contain flammable gases or vapors. There are two divisions for Class I environments:
Division I: An environment in which ignitable concentrations of flammable gases or vapors can exist under normal operating conditions. They may also exist frequently because of repair or maintenance operations or because of leakage.
Division II: Not normally present in an explosive concentration, but may accidentally exist.
As the chart to the right shows, these divisions are then grouped to indicate the nature of the hazardous substance.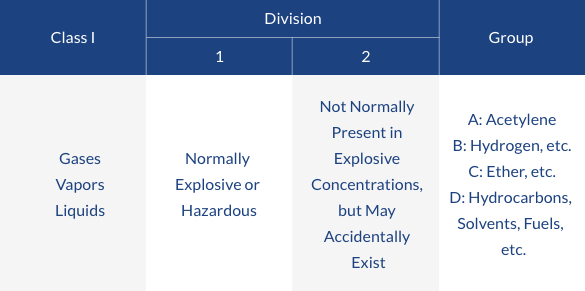 This system helps determine which lighting fixtures, electrical fixtures, electrical fittings, plugs and receptacles, control stations, distribution panels are best for your project. Each component has to be designed for use in hazardous locations. For example, a hazardous location lighting fixture shows it meets the following standards: Class 1, Div 1, 2, Groups C, D. From this you can determine that this fixture is designed for safe use in hazardous locations containing gases, vapors or liquids, that are normally and accidentally present, from the ether, etc., and hydrocarbons, fuels, and solvents group.
Why Would You Need an Explosion Proof Package?
Knowing whether your project falls under division 1 or 2 can save you time and money in the long run. It ensures that you will receive the correct electrical package for your shelter. If you try to use one switch, fixture or receptacle that does not have the appropriate hazardous location rating, it negates the hazardous location rating of all the other components in the system and compromises the safety of your project.
At Shelter Works, it's our job to ensure something like that never happens, so we want to hear all about the applications, environment and/or special circumstances for your next project. Let one of our sales engineers help you ensure the safety and compliance of your most critical field equipment sales.