Extra Tall Equipment ShelterCase Study
Delivering A Fiberglass Shelter That's Too Tall For Standard Shipping
Shelter Works has developed a reputation for being the "go-to company" for engineered-to-order equipment buildings. When a process requires more than just four walls and roof, our customers have come to rely on us to partner with them to design and produce the right solution.
One of the largest public universities in the South had a need for a large equipment building that would house electrical equipment for a power cooling plant on campus. It needed to be taller than most common equipment buildings (12′ x 26′ x 12′) and would be located in an area with extremely high humidity.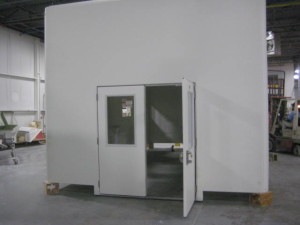 The Solution
The most common wall heights for equipment buildings are between 6' and 10'. But this cooling station required something different; the equipment required 12'W x 26'L x 12'H enclosure–one that would hold up to the humidity and provide the optimal operating environment for the equipment. Composites are the ideal materials to use for these types of environment, but producing a seamless 12' height by 26' long building presented the greatest challenge–a challenge that Shelter Works was well equipment to tackle. With our focus on engineered-to-order, proprietary production process and high quality standards, we were able to design, produce and deliver the right solution, on time and within budget.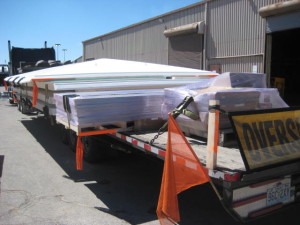 12′ x 26′ x12′ Unassembled And Ready To Ship
Typically, we send a building that's already been constructed in our facilities, but because this building was so tall, it would have exceeded the maximum load heights allowed. It had to be shipped unassembled and flat packed to ensure safe delivery and compliance with shipping requirements. Once onsite, assembly was overseen by Olympic Construction on behalf of the University. According to Victor Kunitsa, President of Olympic Construction, from initial stamped drawings being supplied and approved, right through to final assembly, the process went quickly and smoothly. Olympic Construction had never worked with Shelter Works before, and when asked whether he would ever consider buying a field equipment shelter from Shelter Works again, he enthusiastically affirmed, "Absolutely I would work with them again. The price was right and the building was just what was needed!"