Electrical Equipment Protection for Wastewater PlantCase Study
PREFABRICATED SHLETERS SAVE VALUABLE TIME: "Shelter Works was a big timesaver."
That's how Dave Schoster, project manager for CH2M Hill described the four fiberglass buildings we supplied for his clients' wastewater treatment plant. "We were originally going to use concrete, but the subcontractor didn't have the resources to keep up with the demanding schedule that the project required. In the end, the cost was the same but the Shelter Works solution didn't consume resources on site. If we stuck with the concrete, it would've taken much longer."
Concrete buildings can be very time- and labor-intensive. The concrete building process is more complicated; the buildings would've had to have been cast in place. Forms would've had to be made and the concrete poured. Following a 7-28 day cure time, the building would then have to be finished; doors, windows, lighting, the works! Then, they would have had to do the same thing all over again for the roof! That is a lot of time that Shelter Works can take out of the process for any client. Also, because it came as one integral unit, installation was a breeze. It arrived on site, was set in place and bolted down in a matter of hours.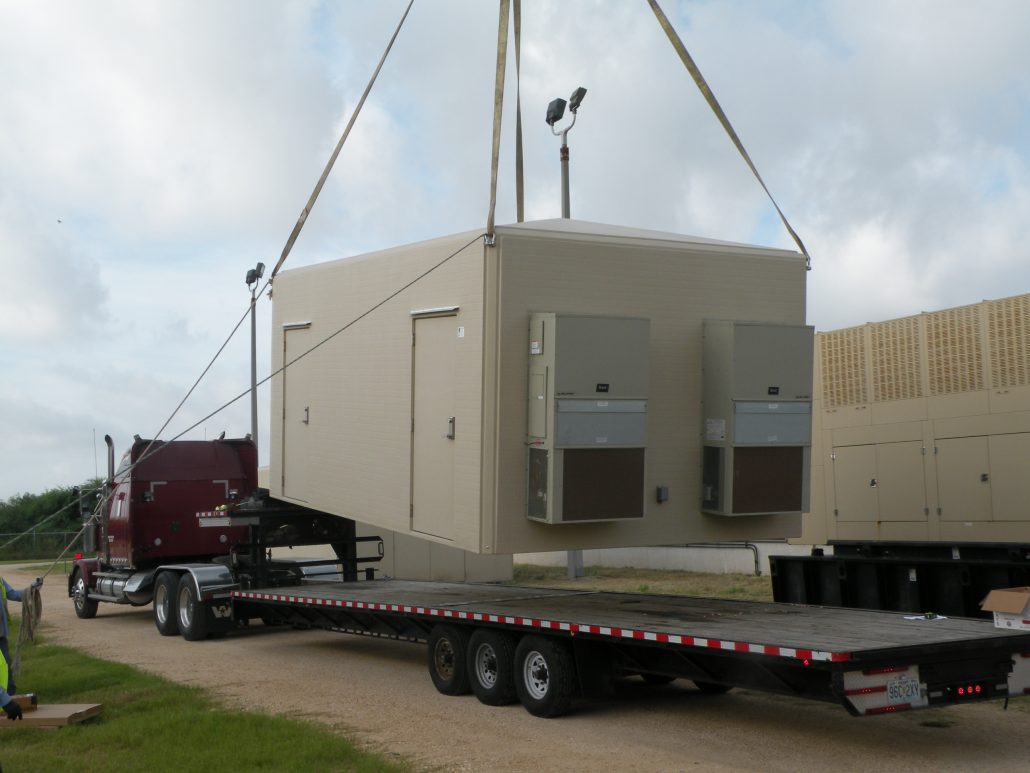 The Shelter Works' prefabricated buildings have our industry leading 25 year warranty, while the concrete building would've only carried a one-year contractor's warranty.
All four buildings are protecting electrical equipment needed for the expansion of the facility. Because of the ambient heat (as well as the heat generated by the equipment that is enclosed in a cabinet), this equipment can quickly overheat. To prevent this, two large Bard air-conditioning units, weighing approx.. 355 lbs each, were installed in each building. To support the additional weight, the load bearing walls were reinforced with 19/32 OSB to ensure that there was enough structural integrity to hold up these large air conditioning units.
The end result was complete customer satisfaction. Schoster explained, "Overall it was a cost-effective system that didn't consume any resources on site. The Shelter Works solution shaved several weeks (if not months) of time off of the project."