Durable Equipment Protection SheltersCase Study
Equipment Shelter You Can Count On
"I think the first one we bought was 15 years ago…."
That's what Regis Yurcich recalls about the first of many Shelter Works fiberglass equipment shelters purchased for one of the 171 waste water pump stations he's in charge of as Chief of Facilities for Newcastle County, Delaware.
We recently spoke with Yurcich to ask why they keep coming back to Shelter Works to protect their equipment. He explained, "Because they are so durable, these buildings last a long time, and the fact that they are delivered in one piece is great. It makes installation so streamlined, and it's easy to move if necessary." At one point, they added additional flow for one of their facilities, which meant the wet well had to be increased in size (considerably). A new, larger structure had to be built, but rather than destroy the old building, they were able to reuse the structure elsewhere to protect some different equipment.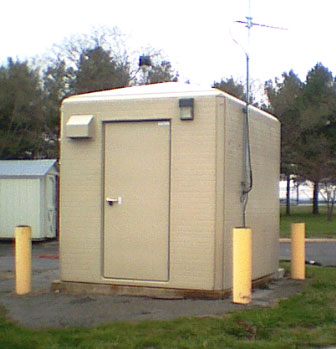 That durability is such an important quality, as many times their buildings take a lot of abuse. Yurcich explains the security these shelters provide, "We have one building that gets graffiti on it all the time; it takes a beating regularly and holds up really well. Because these buildings are in neighborhoods, they can't be eyesores—they need to be attractive or people will complain about them. In all these years, we've never had a complaint about a Shelter Works equipment shelter. "
"We've had other types of buildings, but they just don't meet the need as well. Some other fiberglass buildings have not been the size we needed and therefore don't provide as much access to the equipment," Yurcich explains. "Because the Shelter Works shelters can be customized, they can be developed in just the right size for optimal access to the equipment. In addition, we put electrical panels on the walls of most of our fiberglass buildings, so by having the reinforcing beams in the walls, that additional weight load is easily managed."
With the ultimate in durability, flexibility, ease of installation and lightweight, one-piece construction, Shelter Works fiberglass equipment shelters continue to serve the needs in Newcastle County, Delaware (and will continue to do so for many years to come)!