Pipeline Equipment ShelterCase Study
Prefabricated Fiberglass Buildings Customized to Meet The Customer's Need
Question: How do you protect ultrasonic and coriolis meter runs as well as flow control valves and instrumentation from severe winter weather and allow for regular inspections of the equipment without disturbing the pipes that run throughout the wilds of Montana?
Answer: Knockout Panels
All of the Shelter Works buildings are custom-made, so every day we design buildings with customized knockout panels, bulkheads, or other special formed openings to meet the specific requirements of our customers.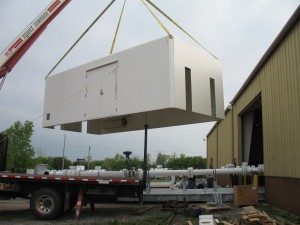 Sagebrush Pipeline Equipment (formerly PTS Fabrication) manufactures pipeline equipment for the natural gas and liquid petroleum industries, including measurement, regulation, filtration, flow control, testing and analysis. We spoke with Matthew Fessenden, Inside Sales Manager, to ask why he uses Shelter Works buildings for his projects: "Shelter Works provides the perfect solution for our needs, allowing access to our meters and piping for inspection and services without disturbing the shelter."
Flexible in Design: Typically the gas measurement or regulation instrumentation being installed hooks up to pipes 2 to 36 inches in diameter. While the equipment needs to be in a temperature controlled environment, the pipes extend out from the building. Fessenden explains, "By having the knockout panels, the piping sections can be easily removed, pulling a single spool for regularly-occurring inspections without disturbing the whole building."
Resilient in all types of weather: The fiberglass shelter has to pass certain snow load and wind load requirements due to the harsh environment of northern Montana. Temperatures can drop below -50° in winter and rise to over 100° in summer.