Cost Effective Equipment EnclosureCase Study
Knoxville Utilities Board Saves Ratepayer's Money With Fiberglass Enclosures
For 14 years, Bill Runyan, Team Lead for the Systems Maintenance Gas Team at the Knoxville Utilities Board (KUB), has been utilizing Shelter Works fiberglass enclosures to protect their chemical injection equipment and water booster stations throughout Knoxville and the surrounding counties. Why? Because he's doing what is best for Knoxville area ratepayers. KUB provides electrical, natural gas, water and wastewater services to over 461,000 people throughout Knoxville and parts of the seven surrounding counties. They are focused on providing the services in such a way as to:
Provide safe and reliable systems
Act as good stewards of the public's financial resources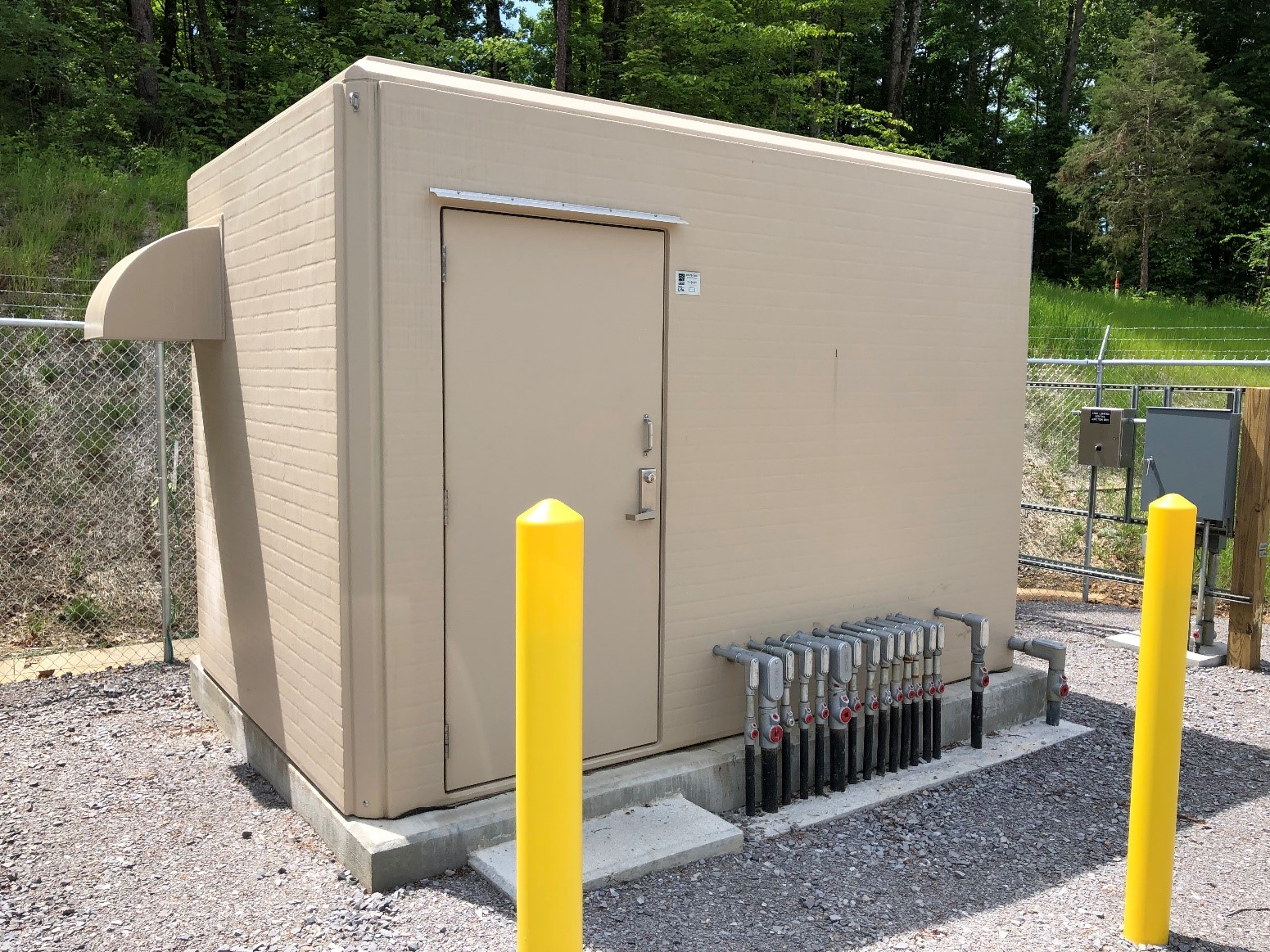 Pre-fabricated Fiberglass Enclosures Protect Equipment Faster
Because Shelter Works fiberglass shelters are fully assembled in our manufacturing facility and delivered to the site ready to go, they can be installed within a few hours. Runyan schedules his projects in such a way to have both the fiberglass enclosure and the equipment arrive at the site for same-day installation. Since the equipment typically requires a crane to lift it into place on the cement pad, that same crane can be used to lift the pre-fabricated equipment enclosure as well. Runyan commented, "It's really beneficial to be able to get electrical equipment in the dry the same day.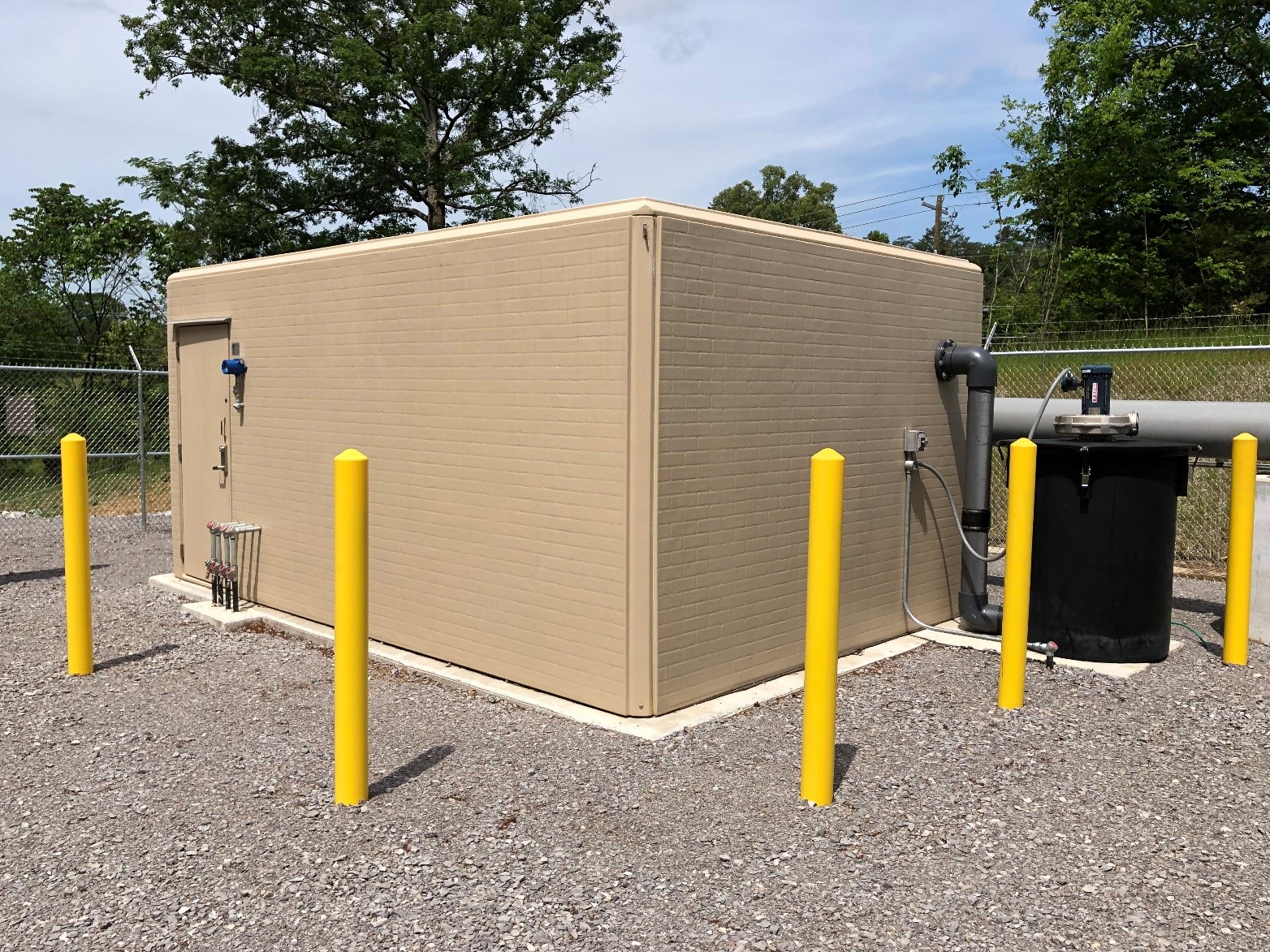 The Best Low-Cost Option
In order to fulfill KUB's mission of providing safe and reliable systems in a fiscally-responsible manner, Runyan recognized value in choosing Shelter Works custom-engineered field equipment enclosures to. He described how he researched the best options for his needs: "In the past, we have used stick-built construction to protect the equipment, but termites are a really big issue in our area. we are always looking for the best way to protect our ratepayer's investments and use financial resources in the most cost-effective manner possible. when I saw how long the Shelter Works fiberglass enclosures would last and how easy (and therefore how low-cost) they are to maintain, it became a very easy decision to choose the Shelter Works option.
Shelter Works' Partnering Process Allows KUB to Get Exactly What is Needed
Each fiberglass enclosure is unique, designed and built specifically for an individual site at the specific application. At the start of a project, Runyan develops a basic sketch of what is needed, and then the Shelter Works team develops detailed architectural drawings of exactly what is required. He commented, "Every time we order a building, they are really easy to work with and very helpful throughout the whole process.
He went on to say, "These buildings provide such great security, protecting the natural gas equipment from public tampering, as well as threats from weather damage. They have performed so well that colleagues in other departments have also begun to use these fiberglass enclosures to protect equipment in KUB's water and wastewater divisions."
Fourteen years later, Runyan is still using Shelter Works enclosures in many shapes and sizes. Each one is different, designed specifically for the layout of the equipment, the application and the site. Over the years they have specified a variety of options, such as rollup doors, bulkheads, intake louvers, secondary containment areas, windows, HVAC units, and explosion-proof electrical packages.