Boiler Enclosures with a Rooftop ViewCase Study
The Project
Shelter Works recently produced two fiberglass shelters for Mechanical Sales in Seattle, WA. Mechanical Sales designs, fabricates, and integrates reliable and cost-effective heating and cooling solutions for their customers throughout the Pacific Northwest. For this project, they needed protective enclosures for two boiler skid packages located on rooftops overlooking Seattle's Elliott Bay waterfront.
Barry Jostol, Principal at Mechanical Sales, explained that both buildings underwent complete renovations for mixed-use office and lab spaces. The updated commercial use for the structures must meet different energy codes requiring large air source heat pumps. The boilers act as an auxiliary backup to those heat pumps.
The skids' rooftop installation necessitated protective shelters to safeguard the electric boilers from the elements and provide a safe, dry location for an operator and service technician to work.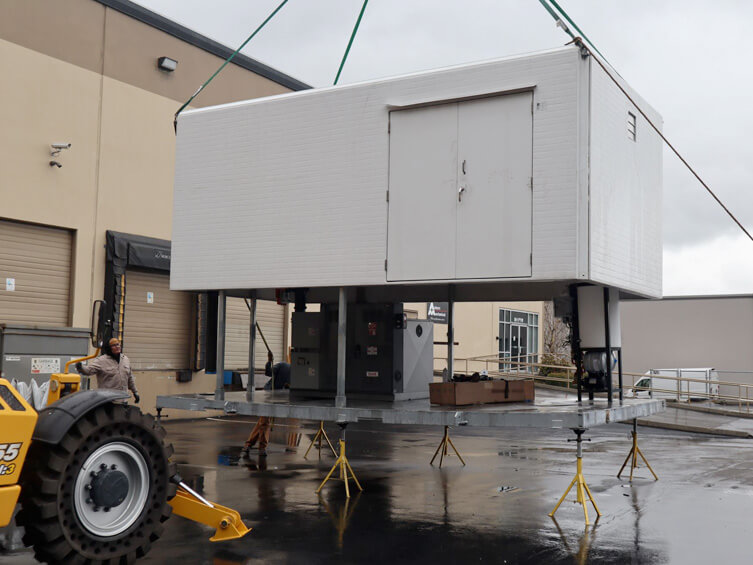 The Shelters
Both fiberglass enclosures, although of different sizes, have similar features.
Bulkheads - These fiberglass-only wall portions allow for penetrations over 2 inches in diameter. These sections allow for piping and electrical to run through the walls without compromising structural integrity or the shelter's 25-year warranty.
Exhaust - Both shelters have 12-inch exhaust fans and vents to circulate air, providing a comfortable space for the operator and allowing hot air to vent out in the summer months. They also have matching fiberglass rain hoods to keep water from entering the interior of the enclosures.
PE Stamp - Secure digital drawings by a Washington State licensed Professional Engineer, providing structural analysis showing compliance with wind, snow, and seismic loads.
Why Fiberglass
Fiberglass was the chosen shelter material because its light weight makes it ideal for rooftop applications. Fiberglass is also corrosion-resistant and will stand up to the weather and humidity typical to the Puget Sound area, warding off weather conditions that could compromise the performance and longevity of the boilers.
Why Shelter Works
When asked about their experience working with Shelter Works, Jostol stated, "It was easy. Shelter Works provided detailed submittals that included all the measurements and locations for penetration holes, so we knew what to expect when the shelter showed up. It was raining when the building arrived at the fabrication shop, but installation onto the skid package was quick and easy."