Protecting Compressors and Controls For Rotary DistributorCase Study
The Project
WesTech Engineering, headquartered in Salt Lake City, UT, designs, engineers, and manufactures water and wastewater treatment process solutions. They recently worked with Shelter Works to produce three fiberglass shelters for a larger project that involved upgrading a wastewater treatment plant. The shelters protect the compressors and controls for WesTech's HydroDoc™ Distributors, hydraulically driven rotary distributors that evenly disburse wastewater to maintain healthy biomass and optimize treatment efficiency.
Kevin Ball, Project Manager at WesTech Engineering, explained that the air compressors supply air to the HydroDocs. The air controls the gates located at the ends of the arms. The gates open and close, controlling the flow of water, which controls the speed at which the HydroDocs rotate.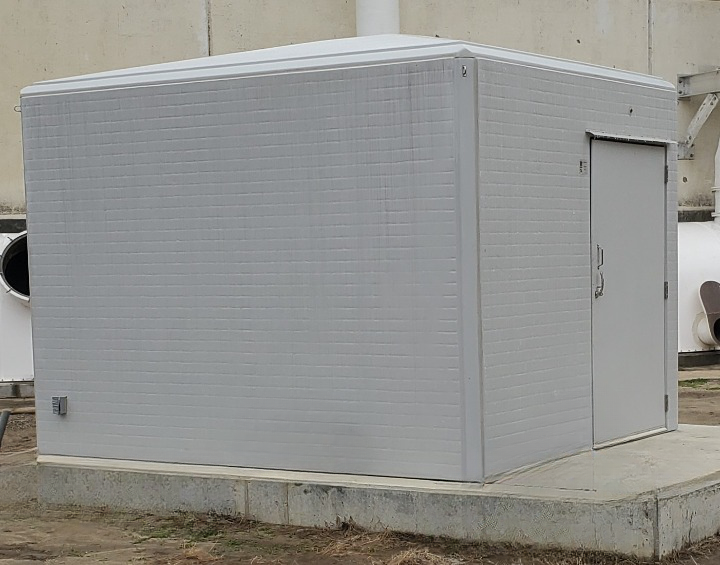 The Shelters
The 10ft x 12ft x 8ft fiberglass shelters were custom designed with 4ft doors with trip-proof thresholds and wood reinforcement, in specified areas, for mounting heavier equipment. The electrical systems consist of load centers, weather-resistant receptacles with weatherproof receptacle covers, and vapor-proof lighting.
Each shelter also includes a stainless-steel air conditioner to keep the inside temperature of the enclosure at 80° or below for operator comfort and equipment protection. The air compressors give off a lot of heat when they are running. The air conditioners, combined with the energy-efficient fiberglass shelters, regulate the interior heat and moisture that have the potential to cause damage to the compressors and electrical control panels.
Why Fiberglass
The demanding conditions found in wastewater treatment necessitate protective measures to safeguard the air compressors and their controls. Harsh environmental factors, like corrosive gases, high humidity, temperature fluctuations, and exposure to UV radiation, can compromise the performance and longevity of these critical components. The Shelter Works fiberglass shelters address these challenges effectively, extending the lifespan of the equipment they protect. This longevity reduces maintenance requirements and associated costs, increasing operational efficiency and reliability.
Working With Shelter Works
Kevin Ball came to this project towards the end and encountered some issues while getting up to speed. He complimented Shelter Works' Sales Engineer, Dana Woodall, on his problem-solving efforts and ability to keep things moving forward. "Dana has been excellent to work with in helping to find solutions to some of the issues I faced. Dana has a great attitude and a willingness to help."