New Purchasing ManagerShelter Works News
Meet Our New Purchasing Manager
We are so happy to welcome the newest member of our office team, Mharestel Cosido. As Purchasing Manager, it's her job to make sure that raw materials are ordered, inventory levels are maintained properly and componentry and any other aspect of our purchasing meets our clients' expectations of excellence in both quality and delivery time.
Mharestel has a Bachelor of Science in Business and Management from the University of Phoenix, and she brings a strong operations background from her work at Custom Product Innovations in Lebanon, Illinois, where for the past three years she was Director of Operations. Her experience in warehouse management and distribution operations will be highly leveraged as she works with Shelter Works suppliers to help us provide the best shelters at the most cost-effective price possible. Her friendly but firm demeanor will ensure that the necessary materials and components will be available exactly when we need them. This will make sure our manufacturing facility is operating at maximum efficiency.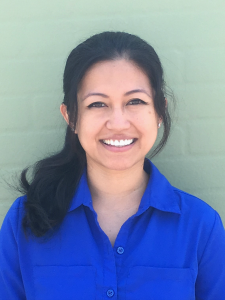 We asked Mharestel what attracted her to Shelter Works and how she likes it so far. She explained "I really wanted to work for a developing company with lots of opportunity for growth. I'm really happy here at Shelter Works; everyone is so friendly and all have been really helpful." When she's not a Shelter Works, she spends time with her two dogs, Australian Shepherd "Griffin" and a blue-eyed, red haired husky named "Phoenix."
Welcome Mharestel!